Hiking matters #10: The Mt. Tabayoc connection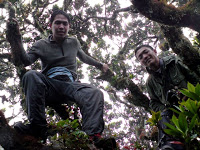 BAGUIO CITY – It's nice to be back here in the City of Pines, especially after a Cordillera climb. This time around, I did
Mt. Tabayoc
with my friends David Chan and siblings Panggo and Agnes Sarreal. We took the bus from Baguio to Ballay, walked up to Lake Tabeyo, and on the next day, we reached Luzon's second highest peak (summit pic with Panggo). The trail is not established; the forest very dense. According to our guide, Santiago, very few people attempt to climb Tabayoc, and he says that our group was actually the first to reach the actual summit. However, the trail is really manageable and especially if it will be established, Tabayoc would make a great trekking destination, especially if coupled with a
Pulag trek via Tawangan
.The first peak is marked by a rock with a climbable tree on it; you can take your pictures here. The rest of the area is full of dwarf trees. It must've been very nice with the views! Unfortunately all we had were clouds and fog- but it's still a successful climb.
I've been told, however, that right now Tabayoc is still 'under construction'; the system of guides, registration, etc. is still being organized. Meanwhile, if you wish to climb Tabayoc, coordinate with Mt. Pulag National Park since it is under the jurisdiction of the Park geographically and bureaucratically.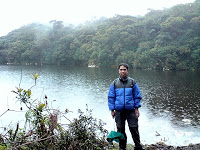 We wanted to do Pulag as well so we went to Tawangan, passing by Lake Ambulalacao also (see picture). But the next day, very bad weather forced us to just crossover from Brgy. Tawangan to Tinoc, Ifugao, where we caught the first trip to Baguio. In Baguio we met with Sir Bambi Guevara, my mountaineering friend who introduced us to two Nepali students, one of whom had met Sir Edmund Hillary! As the distant typhoon whitewashed the Cordillera mountains, we foodtripped around Baguio, watched 'Ironman', and on the next day we climbed ('visited' might be a more proper term) Mt. Sto. Tomas.
Now we're here at the Victory Liner terminal. This week has been a most enjoyable one for me – we did Mt. Calavite, and this Cordillera experience has been a most rewarding. Till the next climb!
More on Mt. Calavite
Afraid that some typhoon or low pressure area might ruin our planned Mt. Tabayoc climb, my climbing buddy David headed to Occidental Mindoro, to climb Mt. Calavite, and make sure at least we did one major. We left Thursday night (May 8), arrived in the town of Paluan via Abra de Ilog port the next day, and immediately started trekking. I asked our Mangyan guide, Solomon, if Calavite can be daytripped. When he said yes, we immediately resolved to attempt it. The ascent takes 4-5 hours, but the descent was an easy 2.5 hours. Lots of wild berries along the trail served as trail food, and the views were refreshing. By early Saturday (May 10) we were already back in Manila — preparing for our departure on that same evening for Benguet to climb Tabayoc!
PinoyMountaineer in Manila Bulletin
My Palawan climb last March was featured in an article entitled "Mt. Mantalingajan: Sacred mountain of Palawan" in the May issue of Manila Bulletin Travel, released today (May 15). Ivan Henares is also featured in the same magazine, in "A passion for places". I am really hopeful that Palawan, the 'last frontier' of hiking in the Philippines, will soon be familiar ground to us mountaineers — I can't wait to explore all those other mountains!