Hiking matters #13: Tokyo rain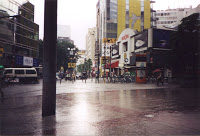 CHUO-KU, TOKYO – Just as I started to think that I have escaped the tropical weather in the Philippines, I find myself using a transparent umbrella here in Tokyo. It is June after all and the height of a few weeks' rainy season in Japan. Even so, daylight lasts from 0400-1900H, plenty of time to move around, yet merely going about town requires a hiker's stamina. Yesterday when the weather good I walked around Tsukiji (home of the famous fish market), Ginza (shopping district), Harajuku (where the younger generation wear their stylish clothes) and other nice places.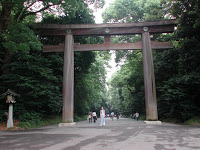 Finally I took a jog to Meiji Shrine. There are plenty of walking trails and the Meiji Shrine is one of the nicer ones. The huge torii (see picture) were both simple and grand. You have to wash your hands on a fountain with some bamboo laddles, and at the main shrine the Japanese would bow and pay their respects to the late Emperor Meiji. As I was heading back to the subway, the loudspeaker said: "Thank you for worshipping!" Hey, I didn't come to worship! Even so I had a great time.
They say that travelling in Tokyo is expensive but just like in the Philippines, walking/hiking is a great way to see the sights but not spend on expensive transportation and attractions. And what of the mountains here? The majestic Fuji; the Japanese alps; and the highland towns with mountain shrines and springs? We'll see.
Natib and Kanlaon
Ejayqueda, commenting on my entry last week, said "i already asked the person i was talking about. He said that the operation could take up to 45 days from the day they started to block the trails. NePs presence are high there but it would not take any longer than 45 days. so lets expect natib to be available before the month ends and even earlier." So we may see Mt. Natib opened in the future. This is excellent!
Another comment, in the ClimbSpeak entry, by 'local', says that there is a drilling project in Mt. Kanlaon to which mountaineers in Negros are protesting. He adds: "What are we mountaineering community doing to help them defend mt.kanlaon?this is our concern, climbing has inevitably made us aware of the need to protect the environment. WE should make our awareness contagious, it is our duty, it's the least we could do." I am personally not aware of any developments in Kanlaon but I hope the mountain – I think one of the most beautiful in the country – will be protected at all costs. Do you have any opinions / suggestions about the situation in Kanlaon?