Hiking matters #14: Two climbs in Japan / Pulag mischief
Two climbs in Japan
For my first weekend in Japan I took the train from Tokyo to Nikko, Tochigi Prefecture. Now this town of Nikko is a famous outdoor/tourist retreat place among the Japanese. Its main attraction are the shrines and temples that together comprise a UNESCO World Heritage site. Also, there's the most famous waterfall in Japan, the 97-meter Kegon Falls. There are also two lakes: Chuzenji-ko and Yunoko where one can go canoeing and fishing. Of course, an ideal Japanese tourist place won't be complete without onsen (hot spring baths) which abound in Nikko proper and Yumoto further away.
For a mountaineer, however, there are two must-climbs: Nantai-san, a holy Buddhist mountain rising up to 2,470 MASL; and Shirane-san, the highest mountain in the area, around 2,587 MASL. Both of these mountains can be daytripped though making thenm overnight trips make it more relaxing. Since I didn't have the luxury of time, I had to do them both in one weekend, plus see the sights of Nikko as well.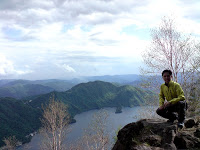 For my first day I did Nantai-san. It is also called Futurasan and was first climbed by a Buddhist monk in 782 AD. 1226 years later, there I was, paying the 500 yen entrance fee to climb. I forgot to load up water in my empty plastic bottles; but good thing there was purification water in the temple, which I used as trail water! The monk didn't mind. So I went past the torii (gates) and climbed up. Boy it was steep! Just like Mt. Banahaw's Tatlong Tangke trail back home. But I was refreshed by the sight of pines, maple trees and plum trees in full bloom. Also, there was the turquiose-colored Lake Chuzenji beneath – very beautiful indeed. As I went higher, the rocks began to deck the trail. Mountain huts were few and far between. Ultimately, the trail turned into nothing but sand and gravel; I felt the whole weight of my body slipping from my steps and the temperature plummeted to single-digits.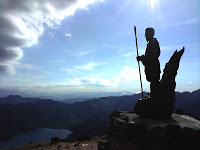 But, after 3.5 hours, the end was in sight; I was the statue of the Buddhist monk; as well as the torii that marked the entrance to the summit. There at the top, the views were magnificent: Chuzenji; the town of Nikko; as well as the distant mountains of the Northern Japanese Alps, some of which were still snowcapped.
After taking pictures I descended swifty and stayed at Nikko, where a nice onsen bath awaited me! The next day I hit Shirane-san, but since I was doing it in a single day, I could only manage to climb the third peak of the Shirane trail, Goshikiyama. The trail starts at the Yumoto Onsen area.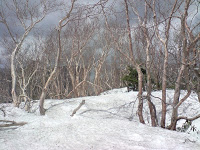 I thought it would be an easy climb but when I was already halfway, I was surprised to see everything covered with snow! It was already early summer, but the snow have found refuge in the mountains. The Americans who had traversed the mountain told me to be careful 'coz its slippery, so I found myself a sturdy dead branch and made my way up. I donned my gloves and managed to ascent.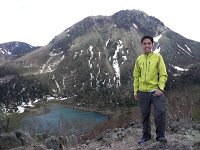 After three hours from jumpoff, I was at the summit of Goshikiyama, confronted by Shirane-san and the swirls of snow around the mountain. There was a pond beneath; and Lake Yunoko was also visible. A very beautiful sight. An even greater reward was my discovery that I could actually just slide down the snowy paths which I ascended earlier. It took less than a minute for me to slide my body down the trail in an exhilirating ride of the lifetime! It felt so damn good that I climbed up again to experience it a second time!
At the end of those two climbs, my knees were already aching. I had to get back to Tokyo so I wasn't able to try the onsen in Yumoto and yet the grilled eel (unagi) that I had for dinner was just and fabulous reward!
Nantai-san and Shirane-san are part of the Hyakumeizan, the "100 Famous Mountains of Japan". Some climbers make it a point to climb all 100 in their lifetime! I still have a long way to go! What do you think will be on the list if we are to make a "100 Famous Mountains of the Philippines"?
Pulag mischief
Sir Frederick, mountaineer, told us of a harrowing experience in Pulag's Camp 2. Here is his account:
"on the night of june 10 at around 9:45,we camping at campsite 2,3 robbers brandishing bolos [& probaby guns] attacked us demanding cash, celfons, camera & other valuable items… that was my 9th climb of pulag, w/ me were my wife, my son who'll turn 3 year old this coming june 18, nephews & nieces & friends [+ guide who was sleeping at waiting shed-junction]. all first timers except me & my wife. they'd attacked us twice, fearing that they will come back again, we took refuge in the forest, stayed for five hours braving the cold [luckily it never rained] until the rescue arrived. i was so frustrated,after all of those good stories & pictures i told & showed to them, i just wished they'll join me again im my outdoor endeavours. our only consolation was the overwhelming support from the locals, bokod chief of police & his police force, babadak bgy captains, tanods, guides & porters… kabayan's chief of police & police force were there too… we were escorted to bokod's police station by a truck of police… the news spread like a forest fire, even banana que vendor knows it… we spent 3 hours at police station for police report accompanied by madam mering who were attending a conference in baguio rushed to amabangeg that morning… not only us were sad to this tragic event… so as the locals… they gave us there words: 'we will not stop until the criminals will be put to justice.' One thing is for sure: i'll be back to pulag next year…
Wow! I don't mean to kindle the fire of gossip, but I think mountaineers should be aware that however rare and unfortunate, these things can happen so please take care of your belongings! Plus, I symphatize with the victims and locals of this incident. Shame on those robbers! But I have confidence that the boisterous and 'palaban' PASU of Pulag, Ma'am Mereng and the peace-loving locals will catch this criminals and make sure this will never happen again.
Meanwhile, my brother told me that Mt. Makiling is now officially open for climbing. Hasn't it been open anyway ever since? 😀