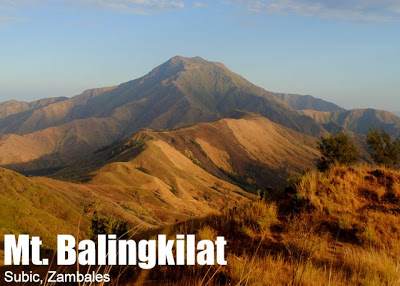 MT. BALINGKILAT
Subic, Zambales
Jumpoff: Sitio Cawag Settlement, Subic Town
LLA: 14.89 N, 120.11 E (est.), 1100 MASL
Days required / Hours to summit: 1-2 days / 4-6 hours
Specs: Minor climb, Difficulty 5/9, Trail class 1-4
BACKGROUND
Mt. Balingkilat, literally the "Mountain of Thunder" in the native Aeta language, is at 1100 MASL one of the highest peaks in the Zambales Coastal Mountains and Coves area, an emerging hiking hotspot within San Antonio and Subic towns that has scenic views and nice trails that interconnect high peaks and beautiful coves.
It was once known as 'Pointed Peak', a name that was used by US Navy servicemen who used to be stationed in nearby Subic Naval Base, but this title's descriptive accuracy is valid only on certain vantage point. Moreover, out of respect for and appreciation of the indigenous people's heritage, we are preferring the native name Balingkilat, and has re-emerged as the common name given to this mountain.
Like many mountains in the western side of Luzon, Balingkilat is rocky, grassy, and windy. There is little tree cover. There are steep parts in the final legs of the trail, but the views are refreshing: the Subic Bay coastline and the neighboring mountains such as Mt. Cinco Picos.
In the past, the Balingkilat climb was usually a two-day affair. Hikers would take an early morning bus to Subic, then take a jeepney to Sitio Cawag. The climb starts midmorning, with a 60-90 minute initial push to Kawayanan – an "oasis in the desert". The trek then resumes, all the way to the summit campsite, where there is another water source available. Between lunch and campsite, the trail becomes quite steep, with open ridges, rocky slopes, and sharp boulders.
A dayhike, however, is very possible, and this option becomes even more appealing because it opens up the opportunity to climb Balingkilat and its "sister mountain" Cinco Picos in one weekend, with both climbs as dayhikes staged from Sitio Cawag. With a dayhike, the trek takes only 3-5 hours, and can be planned to avoid the sun. For instance, hikers can start the climb in the afternoon, reach the summit by 1630H, and start descending by 1700H – leaving enough sunlight for the steeper, higher parts. The next day, a Cinco Picos climb can begin very early in the morning. For more information about this exciting itinerary, see
Two Dayhikes: Mts. Balingkilat and Cinco Picos
. A standalone dayhike itinerary is detailed below.
At the summit, one can behold South China Sea and the coastline, which includes, from north to south, the following coves: Anawangin, Talesayen, Nagsasa, and Silanguin. Mt. Cinco Picos meanwhile is SSE, and between Cinco Picos and Balingkilat lies the "third mountain" that can very well complete a 'Cawag Trio': Mt. Dayungan. Further afield are the Bataan mountains, Mt. Natib (SE), Mt. Samat (SSE), and Mt. Mariveles (SSW). The other mountains of Zambales are also visible, including what is called 'Mt. Malasimbo' (E). These, and the scenic ridges, make Balingkilat a truly breathtaking place.
Balingkilat is intrinsically an easy to moderate mountain. It is only the extrinsic factor of intense sun exposure that make it a moderately difficult, at times very taxing climb. The sun can be such a punisher that this dictum would always come to mind: "The best time of the year to climb the Zambales mountains is at night." Dimtrekking, or hiking in the early morning or late aftenoon to avoid the sun, is also a good strategy. Don't forget to bring sunblock and lots of water!
ITINERARY
TRADITIONAL OVERNIGHT
Day 1
0300 Take Victory Liner bus from Pasay to Olongapo (P200+)
0600 ETA Olongapo City; breakfast.
0700 Take rented jeep to Sitio Cawag, Subic
0800 ETA jumpoff; secure guides
0830 Start trek
1230 Arrival at Kawayanan. Lunch.
1330 Resume trek
1700 Arrival at campsite; set-up camp
1800 Dinner / socials
Day 2
0600 Breakfast
0700 Commence summit assault
0800 ETA summit
0900 Start descent.
1300 Back at jumpoff; late lunch. Tidy up.
1500 Head back to Olongapo City
1600 ETA Olongapo. Take return bus to Manila
2000 Back in Manila
BALINGKILAT DAYHIKE
(this can be adjusted to include as much nighttreks or dimtreks as possible)
0200 Take bus to Olongapo
0500 ETA Olongapo; take trike/jeep to Subic Town police
0520 ETA Subic Police Stn; register
0530 Head off to
0615 ETA Sitio Cawag (Chieftain Jimmy's place)
0630 Start trekking
1100 ETA summit / Lunch
1200 Start descent
1500 ETA Kawayanan
1530 Back at Sitio Cawag jumpoff
SPECIAL CONCERNS
Logistics. No prior arrangement is needed with the Subic Police Station, but as per agreement between the Subic police and the Sitio Cawag officials, a letter of intent must be submitted by every hiking party who climbs any of the mountains whose trail originates from Sitio Cawag (Balingkilat, Cinco Picos, Nagsasa, Dayungan). Before you climb, prepare a "Letter of Intent" in triplicate. One copy goes to the Police Station right beside the Subic Municipal Hall, another to Chieftain Jimmy; keep the remaining copy with you. A P20 registration fee is also paid. Tell your tricycle or jeepney to drop you off in the Police Station first before proceeding to Sitio Cawag Settlement.
Transportation. Speaking of tricycles and jeepneys, they are the only reasonably fast and convenient way of getting to the jumpoff. The going rate for a one-way jeepney ride is P800; a contact is Mr. Rosendo (+63.9282929994). If you are a small group, try bargaining for a lower price, or just get a tricycle in the bus station. Negotiate the price, and you might be able to get a trip for P300.
As for getting to Olongapo from Manila, Victory Liner, Genesis Lines, and other bus companies service the route. Depending on the number of stops and routes, the trip can make 3-4.5 hours. The fastest buses go nonstop via NLEX-ScTEX. Check the Victory Liner
website
for schedules/fares. There is no need to reserve tickets unless you are climbing on Holy Week or Christmas, or if you are a very large group. The fare is P230 as of April 2011.
Guides. As of 2011, the guide fee is P600/guide/trip, regardless of the duration, be it a dayhike or an overnight. Chieftain Jimmy Albong is the apparent officer-in-charge of the guide assignment, and he can be reached at +63.9219543215 or +63921.954.32.15. If you are doing an overnight, please make provisions for the guides' food and tent. Some of the guides complain that they've experienced tent-less nights at the summit, during which they had to endure the chilling coastal winds.
Hiking notes. Cellphone signal is present throughout the trail and campsites. Again, it is very very hot so bring a lot of sunblock and water, and of course sun protection (bush hat, long-sleeved light shirts, etc.)
Techinical hiking notes. It is very hard to estimate the height and length of trails of grassy slopes and mountains, because you cannot see the scale of the trees. Balingkilat is not really very long, but it is not very short either. Refrain from making daring "explorations" if you are not sure you have enough time; the nearby mountains i.e. Dayungan seem closer than they actually are.
A very helpful website about Balingkilat and other mountains in the area is that of
MikeB
. He writes in delightful Filipino, and he has an interesting article about the pioneering climb in Mt. Balingkilat. You can also contact him for more information about the mountain.
One of the first visual treats of a Balingkilat hike is a view of three of the five peaks of Mt. Cinco Picos.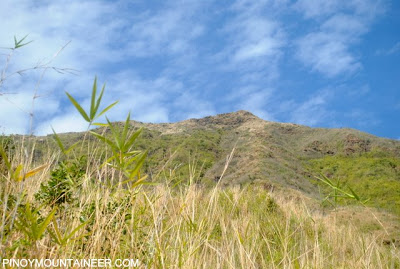 Steep, open, grassland slopes characterize much of the Mt. Balingkilat trail. Here the summit is seen.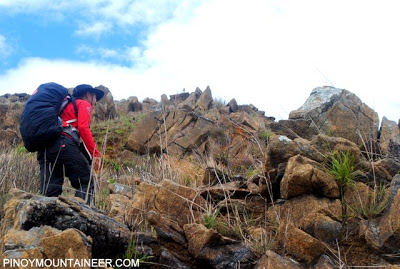 A short portion of the trail, just past the first campsite, features some boulders.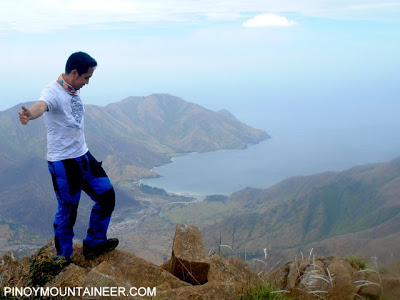 At the summit of Mt. Balingkilat, one can see all four coves of the Zambales Coastal Mountains and Coves area. Here, the blogger is seen facing Nagsasa Cove.
TRIVIA
YABAG Mountaineering Club
is a pioneering group in the exploration of Mt. Balingkilat, and so was SBMS who did the BACTrav in December 2008. The blogger performed a dayhike of Mt. Balingkilat in March 18, 2011, taking 3 hours 10 minutes to summit. A Korean trail runner was said to have completed the entire trail, back and forth, in less than 2 hours.
SUBIC WEATHER OUTLOOK
Cover photo taken from Mt. Cinco Picos' Peak 1 by the blogger on March 19, 2011.