R.O.X (RECREATIONAL OUTDOOR EXCHANGE)
The Fort, Taguig
Address: Bonifacio High Street, The Fort
Clothing variety: 5/5
Equipment coverage: 5/5
Price range: 2-5/5
PinoyMountaineer will begin featuring various outdoor shops in the country, for the benefit of mountaineers and other travelers. Ultimately, the outdoor shops will be indexed together with the mountain destinations and you can access them by clicking the Philippine map on the upper right corner of the blog.
STORE INFORMATION
The most comprehensive and complete outdoor store in the Philippines is the Recreational Outdoor Exchange, popularly known as ROX, in the upscale Bonifacio High Street. The three-story complex, the first of its kind in the country, houses a variety of foreign and local brands — and also a wide range of prices.
What I like about ROX is that it offers brands such as Millet and Lafuma – renowned abroad but still being introduced in the Philippines. Millet bags are particularly highly acclaimed, and when I was in Japan it was one which some climbers recommended.
Practically all you need is in ROX. The first floor is devoted to equipment – MSR, Snow Peak, and a host of other brands. They have the top of the line stuff including titanium trekking poles, cooksets and microstoves; sleeping bags and tents come with all kinds of specifications. There is also a whole line of waterproofing gear and practical items such as protectors for your cellphone and camera during a climb. More technical items such as radios, altimeter watches, GPS are also available. Finally, there are also outdoor and travel-related books for sale.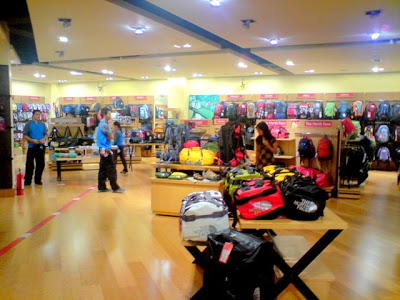 The second floor has the clothing lines and the bags. There are trekking pants from BombProofGear, Lagalag, North Face, Columbia, Lafuma, Millet, and some others, bushhats, gloves, and so on. If you are planning a foreign climb, there are North Face and Lafuma gear specifically for alpine climbs.
Aside from its vast merchandise, R.O.X also hosts events that are outdoor-related. One of its thrust is to support and promote backpacking and outdoor tourism in the Philippines. The third floor has a conference room for outdoor enthusiasts that are supported by R.O.X; and I must not fail to mention that aside from mountain climbing, R.O.X. also covers the general outdoors and even skin diving and kayaking.
PinoyMountaineer.com is supported by R.O.X.
R.O.X. Philippines is located at Bonifacio High Street and is within walking distance of nearby commercial centers such as Serendra and Market Market.