Mt. Isarog/ Patag-Patag Trail (1,966+)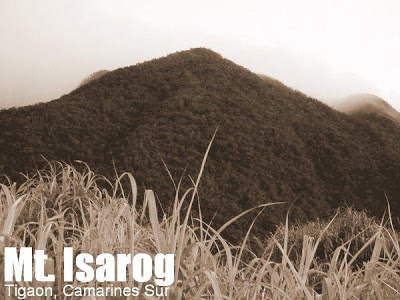 MT. ISAROG/ PATAG-PATAG TRAIL
Tigaon, Camarines Sur
Major jump-off: Consocep Base Camp, Tigaon
LLA: 13°40′ N, 123°21′ E, 1966 MASL
Days required / Hours to summit: 2 days / 6-8 hours
Specs: Major climb, Difficulty 6/9, Trail class 3
Information about this article is shared by KADLAGAN Outdoor Shop, credited to be the pioneers who established the Patag-Patag Trail. An open climb will be held on Sept. 27-28 with this itinerary. For more details, you may reach them with the contact details below.
BACKGROUND
In November 1998, climbers from Naga led by Sir Jojo Villareal and Mt. Isarog Guardians opened the Patag-Patag (East) trail opposite the more familar Panicuason (West) trail up Mt. Isarog. According to one source, the name became such because on aerial inspection, the area looked flat; another source claims that the name is due to 'flat parts' in the trail. But since almost all mountaineers who have been to Patag-Patag say, "What flat part? It's like an assault all the way up!", it is likely that the first version has it right. Either way, the name has become one of the most famous misnomers in Philippine mountaineering.
Actually, the Panicuason and Patag-Patag trails are not interconnected. That is, these two trails lead to two different peaks around the crater rim of Mt. Isarog. The highest point (i.e. summit) of Mt. Isarog is accessible via Panicuason whereas the Patag-Patag Peak is the one reached via the Patag-Patag trail. There have been reports, however, of a traverse – PinoyMountaineer is awaiting confirmation and information regarding this.
Just like the Panicuason Trail, the Patag-Patag trail is lush and verdant; but perhaps even more so. Wild animals prefer the east side of Isarog, and so in terms of biodiversity it is a great destination. One of its features is the "Bamboo tunnel" that you will pass by on the way up, and – unfortunately – the notorious limatik. At the summit, being on the east face it has superb views ot Mt. Mayon as well as Mt. Isarog's crater rim. There is also a waterfall that you will pass by, but if waterfalls are what you are looking for, the Panicuason trail is a better option. But the two trails have their own unique features and challenges, and Bicol climbers say you have to try both trails for a complete Isarog experience!
ITINERARY
Day 0
2300 Leave Manila for Naga City
Day 1
0600 ETA CBD Bus Terminal, Naga City
0700 Proceed to Brgy. Consocep, Tigaon
0830 Arrival at jumpoff
0900 Start trek
1200 Lunch along the trail
1600 Arrival at campsite / set up camp
1800 Dinner / socials
Day 2
0430 Wake up call / Prepare for assault
0530 Commence assault to peak
0700 Arrival at Patag-Patag peak
0900 Head back to campsite
1000 At campsite, take early lunch and break camp
1100 Start descent
1600 Back at jumpoff
1800 ETA Naga City, proceed to Manila or sidetrip
SPECIAL CONCERNS
The Kadlagan Outdoor Shop in Naga is the one you should contact if planning . Aside from being the founders of this trail, they can provide you with guides and help you coordinate with the DENR regarding permits, etc. You can also consult them about weather and trail conditions. Kadlagan Outdoor Shop has its address at Dimasalang St., Naga City, telephone no. (63)(54) 472-3305 or e-mail at kadlagan@yahoo.com. Jojo Villareal of Kadlagan may also be reached at +639283807493. KADLAGAN also organizes regular climbs to Mt. Isarog, in cooperation with the local government. Their package tours are highly recommended for groups and individuals alike.
Just like Panicuason, the Patag-Patag trail is under the jurisdiction of DENR so you will have to contact them as well. A convenient way to trying this trail is joining KADLAGAN in their regular climbs.
TRIVIA
'Patag' means flat in Tagalog and Bicolano whereas the Patag-Patag trail is notoriously steep. Thus the Patag-Patag Trail is one of the greatest misnomers in Philippine mountaineering!
Tukad means 'climb' in Bicolano so you would encounter many open climbs so named (or its word derivatives).