Hiking matters #30: An escape to Anilao and Gulugod Baboy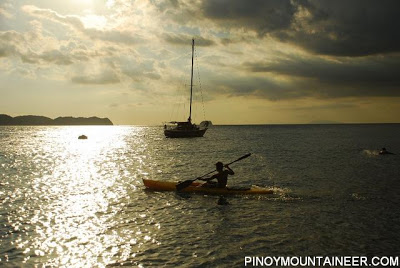 As a clerk (fourth year medical student) in PGH's notorious Internal Medicine rotation, it has finally become difficult for me to keep writing all these mountain stuff, let alone do real climbing. Twenty-four hour duties extend well into the afternoon – imagine going to school at 7 AM and going back home 5 PM the next day! That's like over 30 hours of labor in literally the most contagious environment possible.
Oftentimes I feel that I'd rather climb. Or at least, just give me a break! Fortunately, I saw an opening and seized it. Last weekend, I went to Anilao to join the Mu Sigma Phi sembreak retreat; the swimming part was totally terrific and the sunset was splendid. Dr. Willy Sison, our brod and generous host, suggested that we climb Gulugod Baboy and of course I heartily agreed! The next day, very early morning we set off for the mountian.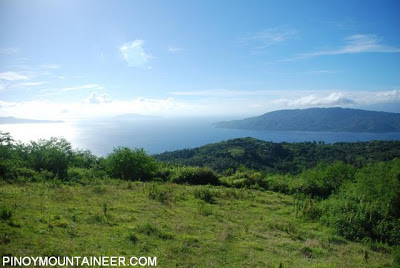 You can have your private jumpoff going up, for the whole area is full of ascending trails. You just have to choose the trail with the most shaded parts. Last year, my classmate Paolo and I traversed the Gulugod Baboy range to reach Mabini town – but we made the wrong choice of jumpoff, and were subjected to thirty minutes of scorching heat of the sun!
This time around, the trail was just a stone's throw away from our resort; it was benign and mostly covered. We started from a quarrying station in Brgy. San Teodoro, more distal than the famous Philpan jumpoff. A cement road led to smaller paths; until the first peak came into view. The environment was pastoral, with goats, horses, and cows roaming in the trails and the meadowy hills. In just an hour, we were at the first peak, called Panay or Torre by the locals. The measurement was 507 MASL.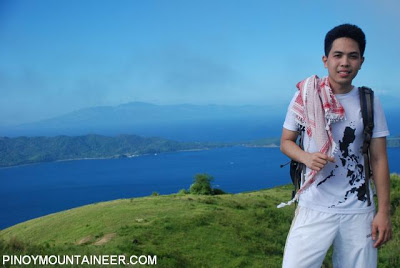 The coastal winds were refreshing, and the views beautiful: Sombrero island and Maricaban punctuated the southern sea, and behind it the lofty Mindoro mountains, chief of which was Mt. Halcon; to the east lay Mt. Daguldol, and Mt. Maculot which eclipsed Lake Taal; on the opposite side stood Mt. Batulao. Although just over 500m, as a viewpoint Gulugod Baboy is excellent.
After enjoying the winds and views, we started descent. What would have been an unremarkable trek became memorable (and dangerous) when I came across a green snake (dahong palay) hissing its way across the trail! And a large one at that! We stood frozen in our tracks, for in the mountains, snakes always have the right of way.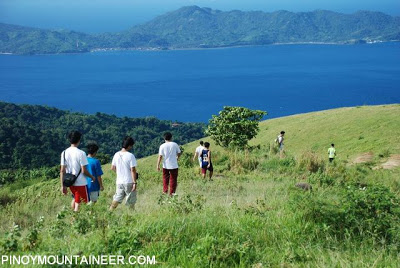 As soon as the danger has passed, we carried on and went back to Dr. Sison's place for a final dip at sea. On the same day I went back to PGH to report for duty. Another 24 hours of hospital work but at least, at last – a pleasant and very enjoyable escape to Anilao and Gulugod Baboy!
Endnote: To all the blog readers with questions and comments, I'm sorry that I cannot respond to your queries right away – or update the blog as often as I want to. Rest assured that I am making every effort to write and climb as always. Nature alone will always be sufficient as inspiration and motivation, as manifest with this beautiful sunset we had in Anilao: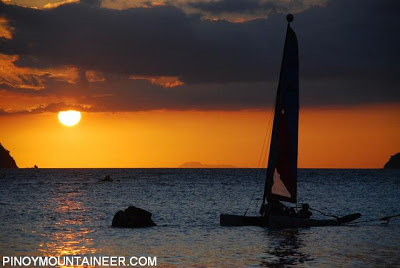 All pictures courtesy of Arjay Bernabe '09. Many thanks to all the brods who joined my climb: Jones, Miko, Loloy, AJ, GR, Neil, Jaypee, and Arjay and to those who made the retreat possible, particularly Dan Alpapara and our generous host Dr. Willy Sison. AFTG!