MountainTalk #4: Karina Dayondon on Everest and other mountains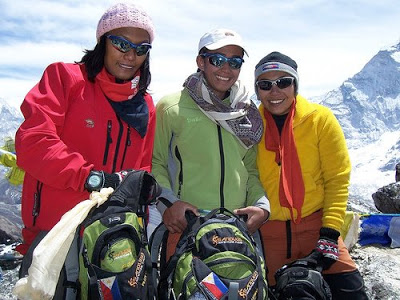 Photo: the Everest ladies prior to their historic climb; from left to right- Janet, Karina, and Noelle. Courtesy of Anton Diaz of Our Awesome Planet and the primary sources.
During John Fortes' 60th birthday I had a nice conversation with Karina Dayondon and Noelle Wenceslao. The atmosphere was festive; Leo Oracion sang videoke songs with lyrics flashing in the background of scenic alpine stills. How appropriate for a crowd mainly comprised of mountaineers! The PALMC guys were there, of course, and it was great to meet some of them. Bambi Guevara, my 'mountaineering mentor' was also there and he knew the Everest Team because they had met in Nepal. Janet Belarmino had to leave early and I didn't get the chance to have a long conversaton with her. Here are tidbits from my conversation with Karina:
How did you discover mountain climbing?
I started with adventure racing as member of Iligan Pride…One of my first climbs was Mt. Kitanglad in Bukidnon.
I also did that – D2-Kitanglad traverse last year…
Yeah that was great wasn't it? The Kitanglad range is full of destinations and we even explored a place where there are hot springs there!
And what about Kalatungan?
We tried that one too. But we didn't reach the summit! The weather turned nasty during our climb and we didn't press on.
My guide in Mt. Iraya (Batanes) told me that you joked about Iraya being more difficult than Everest!
Yes, we were there last March. It was really very slippery and we didn't even see a thing at the summit; everything was covered with clouds. But the provincial government was very accommodating and we saw a lot of nice places there.
You did Denali (Mt. McKinley) before Everest?
Yep. That was another challenging climb we endured.
And finally Everest. What was the feeling?
Syempre, masaya. Looking back at the pictures, I find it hard to believe that we actually made it through something that looked so difficult. But when we were there, we just faced it. Actually, it can really be done by anyone!
How was the Everest Team?
We've become great friends, of course. And actually, although we were the ones who summitted, we're part of a team who took us there…Sila Sir Art, Sir Fred, Sir John…they were behind us all the time and gave us all the support.
Any projects in the future?
We have something upcoming. We'll be announcing it soon.
What about you as an individual?
I'm into triathlon right now, and I'm training hard for it.
Denali and Everest makes two. Do you plan to pursue the other 'Seven Summits'?
It all depends. Skill-wise, kaya talaga ng Pinoy. The only things you need are time and money.
Training hard – and guts – have taken Ma'am Karina to the top of the world. For the record, she and her teammates are the first Southeast Asian women to reach the summit of Mt. Everest on May 16, 2007. We support their future endeavors!