Hiking matters #34: The garbage in Pico de Loro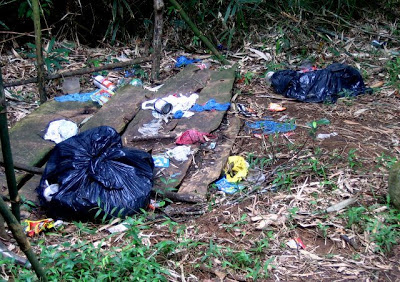 Recently, there was a proposal to make a Ternate landfill which will transform parts of Mts. Palay-Palay / Mataas na Gulod National Park – home of Pico de Loro and Mt. Marami – into a garbage site. Mountaineers naturally protested this move, and we commend the DLSU-DMS guys for advocating this cause.
So there should be no more garbage in Pico de Loro? Wrong. Sadly, the enemy is within. There may not be a landfill in Ternate, but there is garbage in Pico de Loro's campsites.
What should be done about this? Who should be held responsible?
Picture courtesy of TeamPulag (teampulag@gmail.com)