SEAIR promos make dream destinations, mountains reachable!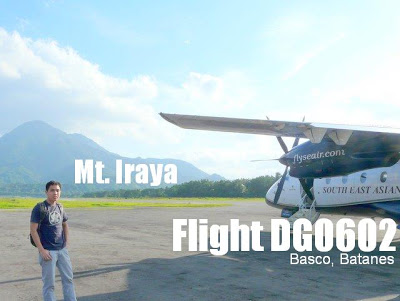 In celebration of SEAIR's 14th anniversary on March 25, 2009, it is offering a very special treat online. All online ticket purchases from March 25, 2009 to March 28, 2009 get P1400 discount per way, for all fare classes, for all seats, for all routes, and for all flights from June 15, 2009 to September 15, 2009. Just visit www.flyseair. com and type in the promo code iloveseair14 in the promo code field!
Mountains served by SEAIR destinations include the mountains of Aurora (Baler); Mt. Iraya and Mt. Materem (Basco, Batanes); Mt. Guiting-Guiting (Romblon, Romblon); Mt. Bongao (Tawi-Tawi); Cleopatra's Needle and the mystical Mt. Mantalingajan (Puerto Princesa). And of course, the destinations themselves are a great attraction for any outdoorsman i.e. Coron (Busuanga); Batanes (Basco).
SEAIR offers daily flights to Batanes this summer
SEAIR now flies daily to Batanes to serve tourists to this beautiful northern paradise. Visitors now have full flexibility on their itinerary and have more options on what day they want to go to Batanes and return to Manila. The flights utilize SEAIR's Dornier 328 planes which take vacationers comfortably to Batanes in just 1 hour and 20 minutes. Of course, Batanes is home to Mt. Iraya, Mt. Matarem, the Hills of Sabtang including Valungid Peak, and other hiking destinations.
For bookings please call SEAIR reservations at (632)8490100 or book online at
www.flyseair. com
. For packages please call SEAIR Leisure Escape Packages at (632)8437308
Bolero and Fishbar give 10% discount to SEAIR passengers
Two more establishments in Boracay now give special privileges to SEAIR passengers. Bolero, in station 3 area, and Fishbar, in D'mall area, both give 10% discount to all SEAIR passengers upon presentation of their SEAIR boarding pass. These are the most recent additions to SEAIR Hot Deals Boarding Pass Privileges Program.
Together with fastest flights to Boracay, fastest queues and check-in procedures, fastest baggage claim, and VIP transfers to Boracay and back, boarding pass privileges in establishments in Boracay and Manila add to the advantages of SEAIR.
To see the partner establishments check the hot deals boarding pass privileges ad in the Inflight magazine. To book flights to Boracay call (632)8490100 or visit
www.flyseair. com