Boulder Face #4: Southern Mindanao mountains this Lenten Season: Take your pick!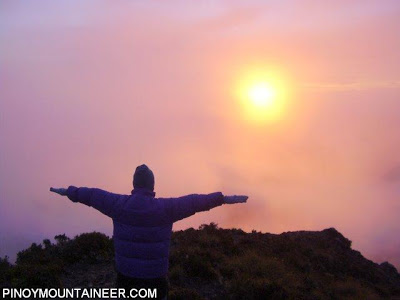 As Holy Week 2009 unfolds this coming April, mountaineers all over the country have the chance to choose from among the Mindanao mountains to stay, unwind and commune with nature. Much of Mindanao actually has a relatively stable peace and order situation and we also have variety of mountains to choose from.

Mount Apo
Standing tall among the mountains in the Philippines and considered the grandfather of Philippine peaks, Mount Apo is still the premiere hiking destination in the country. It is known for its very beautiful skylines and panoramic views. For now, it has five (5) entry points with a uniform registration fee of 500 pesos. The open trails recognized by Protected Area Management Board – DENR are the following: Sibulan, Sta. Cruz, Davao del Sur; Kapatagan, Digos City; Bansalan, Davao del Sur; Makilala/Magpet, North Cotabato and Kidapawan City.
Mount Matutum
With a height of 7,500 feet above sea level, Mount Matutum is the highest peak in South Cotabato area. It can be scaled via the municipalities of Tupi and Polomolok. It has established campsites but its peak don't have water source, thereby adding the challenge to the already-daring track of this semi-cone-shaped paradise. Side trip to Lake Maughan of Mount Parker can also be done, a half-day trip from Tupi. For climb details contact Maulvi (09269031934).
Mount Candalaga
Located in the municipality of Maragusan, Compostela Valley Province, Mount Candalaga measures up to 7,880 feet above sea level. It has 30 waterfalls and 100 cold springs. It is home to the world's largest flower, the Rafflesia. This Lenten season, the Local Government of Maragusan is organizing the Mount Candalaga Summer Subida 2009 dated April 8-12. Registration Fee is pegged at 500 pesos inclusive of porter-guide fee, summer climb t-shirt, motorcycle fare from Poblacion to Base Camp, Activity I.D., Certificate of Climb and Hosted Dinner. For more information about the itinerary, contact Dennis at 09058501162.
Mount Hamiguitan
Mount Hamiguitan is located in Davao Oriental province with a height of 1,620 meters above sea level. This range holds one of the most diverse wildlife population in the Philippines such as the monkey-eating-eagle. More importantly, trekking Mount Hamiguitan is like a giant in the middle of dwarf pygmy forest of century-old trees with varieties of endemic flora and fauna species. Along the trail, trekkers will also be graced by a lot of waterfalls. For climb bookings, contact Anton (09204153080).
Mount Pandadagsaan
Better known as White Peak, Mount Pandadagsaan is the highest peak of Compostela Valley province. It is located in New Bataan town. This mountain is highly technical, with its trail positioned in very lofty cliffs. The organized White Peak Summer Climb by the Local Tourism Office of New Bataan on April 9-12 has the following cautions to note so as to avoid mess during the climb like a.) no first timers are allowed to climb, b.) it is encouraged that the maximum weight for backpacks is 10 kilograms, and c.) bring at least ½ gallon of water before ascend. These reminders are only proofs of the mountain's complexity. Summer White Peak Climb accommodates only 200 persons with a registration fee of 350.00 pesos inclusive of I.D., Kit and T-shirt. For information, contact Lyle (09207583743).
Front picture was taken at Mt. Apo summit. Boulder Face is the monthly column of Julius Paner, Mindanao correspondent for PinoyMountaineer.com.