Hiking matters #52: Visayan Voyage 1 – From Osmena Peak to Kawasan!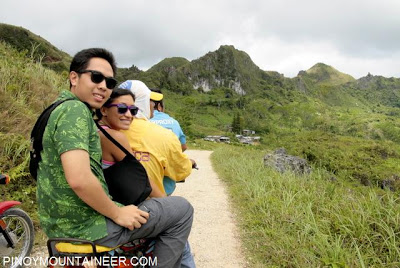 Here we go at last! I was so excited the moment we stepped into the Mactan International Airport, in the beginning of the Visayan Voyage. After finishing my fourth year in medical school, this was one thing I really looked forward to. The plan was to do five climbs in the Visayas in a span of 11 days. I was with great company — joining me were 8 young and adventurous friends from Manila although for our first climb, only Julian and UP Mountaineer Chelo Bendicho joined us. (Hi Chelo, miss you na hehe)We started with a traverse of Osmena Peak, to the famed Kawasan Falls. Even before I came to Cebu, the ONE Cebu Adventure Team was advising us on how to go about it. At first, I thought it wasn't dayhikable and I was glad to settle for a pure O-Peak. But Aldinson – the A-Team head – said it was possible, albeit kinda tight, but we settled for it nonetheless.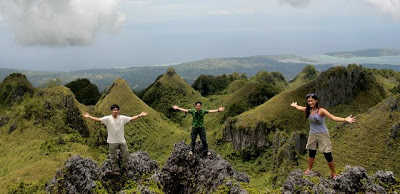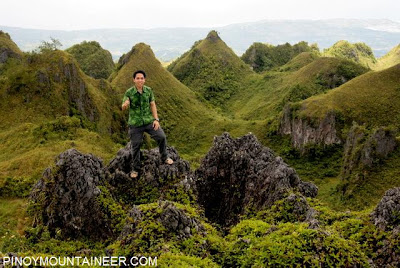 Myand fetched us from the airport and took us to the South Bus Terminal, where we met the other Cebu Adventure Team guys who will accompany us – Wali and Ariel. We took the Dalaguete-bound bus, got off at the Mantalagon Public Market, and took the habal-habal up the rustic villages that populate the highlands. I think the habal-habal ride is an integral part of mountaineering in the Visayas and Mindanao, as we will see later on in the Voyage!We registered at the barangay hall, and proceeded to do a swift, sometimes steep, 30-minute hike to Osmena Peak. I was so excited that I ran upwards when we were about to approach the peak, and I was left breathless with the beautiful view that awaited me! Islands and shores backdropped the pointed hills of the Mantalagon Range. Like Peanut Kisses stacked one after the other, they were akin the famed Chocolate Hills of Bohol. Rocky formations decked the peaks, and climbing on some of them created the perfect photo opportunities!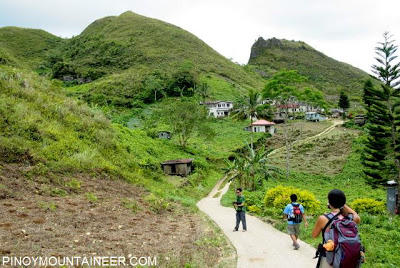 Yet, if the hike up O-Peak was easy, the traverse trail to Kawasan Falls was long and winding. You will walk though all sorts of roads, trails, paths and encounter all the vegetables of the Bahay Kubo (este, Balay Kubo) song in patches and fields. To fight the boredom brought about by legs being on 'autopilot' walking mode, we uttered Japanese phrases and made all sorts of korny jokes before we were told that finally, Kawasan was near. Descent, descent…
The sound of rushing water told us we were close, but we were not prepared for the beauty that awaited us. The milky blue-green waters of Kawasan were so enthralling! There we were with our tired and sweat-drenched bodies, finding ourselves in an oasis of beauty and cool waters! Immediately I plunged into the catchbasins and allowed myself to be carried away by the waves. Some people say that Kawasan is not friendly to strangers, but I felt otherwise as the caress of waters swept away all our fatigue.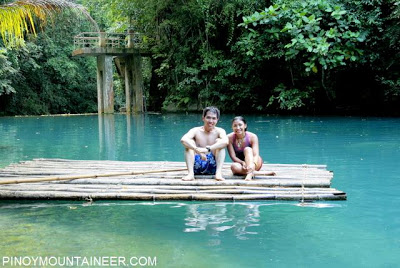 However much we wanted to stay, the setting sun forced us to return to Cebu. And from there, my friend and fraternity brother Bryan Lim and family gave us a nice postclimb feast at Abuhan Restaurant, which served Cebu's finest pochero. After the falls and the feast, we felt ready to do our next climb…which I will write about in next week's entry. Kapuy gyud! Thanks to the ONE Cebu Adventure Team – Wali, Ariel, Myand, Aldinson, and Eric – for your warm hospitality and great company! Pictures courtesy of Julian Canero.