ENVIRONMENTAL ALERT: Stop the vandalism and destruction of Pico de Loro!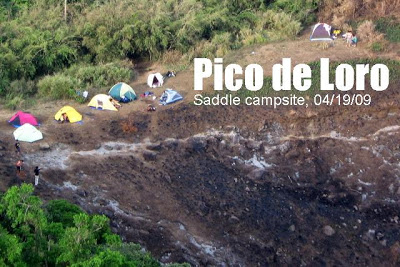 LOS BANOS, LAGUNA – I had hoped to immediately write about the recently-concluded Visayan Voyage but when I arrived in Manila, I was bothered by several emails, comments, and complaints about the situation in Pico de Loro.
For instance, Cecil of AMCI emailed me: "Somebody set fire to the grassland between the bamboo groves all the way to the edge of the cliff, probably a week or two earlier. The area is full of trash, and somebody spraypainted a rock between the campsite and the summit with a fraternity logo."
Another email came from Karl, a freelance climber: "Sir Gid, sobrang ingay sa campsite ng Pico de Loro nung nagcamp kami…At sobrang dumi talaga ng campsite. We brought trash bags pero 'di namin kayang pulutin lahat ng basura. Ang masama pa, parang dumadami yung mga vandalism sa mga bato ng Parrot's Beak pati narin mga iba pang bato na malapit sa summit…"
To those so-called "mountaineers" or whoever did these atrocious acts against nature, SHAME ON YOU! This is not a self-righteous commentary, but a statement that I believe is shared by everyone who is concerned about the situation in Pico de Loro. I am calling on all mountaineers to POLICE the mountain, be vigilant against these acts, and REPORT any groups/individuals who may be responsible for this outrageous actions. Let us unite against this madness!
Campsite photo courtesy of Cecil Morella of AMCI.
PBA09r2o3817