Hiking matters #55: Visayan Voyage 4 – At the summit of Pan de Azucar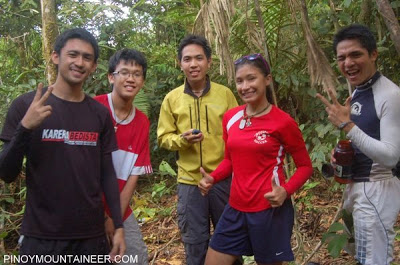 Tinatamad na akong magsulat! Besides, I've already written about this destination as a mountain entry last week. So I'll just show you a photo of the Visayan Voyage team at the summit of Mt. Manaphag in Pan de Azucar Island in Iloilo and share some of my thoughts about this experience. First, take note that there were just five of us: Bianca and Lalaine decided to explore the island instead. As for the five of us, we all faced difficulty. Ace Borja (from left) is sad because he just found out that can't join us in the final Madjaas. Meanwhile, Ted (at 16 years old the youngest mountaineer to conquer the mountain) is hiding behind Ace because his shorts got torn bigtime! Chelo, the only girl, on the other hand was very emotional about the climb; the attire she's sporting is totally ill-advised due to the presence of so many thorns and fire ants! And the usualy athletic, tireless Guido is drinking water. It was really a wasakan climb, trail-less and very tiring!
The ironic thing is that this isn't actually the summit of Manaphag! We thought it was, and we unleashed all our emotions only to find out that, from this picture, we were three minutes away from the actual summit of Pan de Azucar. Anyway, there's no view either way and actually, this picture could have just been easily taken at the backyard of my grandparents' house in San Pablo.
At any rate, I just needed to write something to make the Visayan Voyage complete. LOL. But please await my final Voyage post, about the mighty Madjaas!