Mt. Manaphag, Pan de Azucar Island (606+)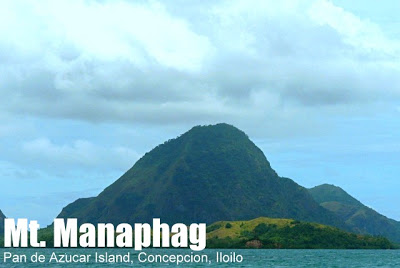 MT. MANAPHAG (MT. PAN DE AZUCAR)/TRAVERSE
Pan de Azucar Island, Concepcion, Iloilo
Entry point: Brgy. Tambaliza, Pan de Azucar Is.
Exit point: Sitio Ponting, Pan de Azucar Is.
LLA: 606 MASL
Days required / Hours to summit: 1 day / 3-4 hours
Specs: Minor climb, Exploratory, Difficulty 6/9, Trail class 4-6*
Features: Island peak with very steep slopes and non-existent trails
BACKGROUND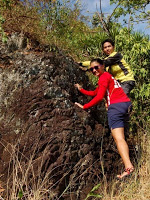 One of the most exciting climbs in Visayas is a land-and-sea adventure that will take you to the northeastern islands off Panay in Concepcion, Iloilo, where Mt. Manaphag in Pan de Azucar Island is a towering presence. Its ethereal appearance of a sugar loaf (hence, it shares its name with its more popular counterpart in Brazil) is visible even from the northern Negros towns of Silay and Talisay, and the most striking feature, to the eye of a mountaineer, would be its steepness.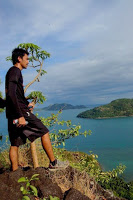 Such steepness was spoken well of by the Sibarong Backpackers of Victorias City, Negros, who proclaimed it as the "Steepest Mountain in the Philippines". In their now-defunct website, they documented a 2003 climb up its steep South Face, touting it as the "first ascent from the South Face" and the "first South-North traverse" of the mountain. While this is highly doubtful, it is true that Manaphag has hardly ever been climbed by mountaineers, especially those from Luzon. In fact, when the blogger's Visayan Voyage team summitted Manaphag in April 2009, the South Face trail was nonexistent.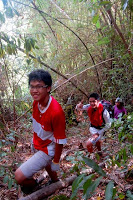 A trip to Pan de Azucar would logically involve flying to Iloilo City, and from there, taking a 2-3 hour bus ride to Concepcion, Iloilo. From here, one can catch a 30-minute pumpboat ride to Pan de Azucar. You will pass by islands but already visible from the onset is the majestic rise of the steep, rocky mountain. Then finally, as you approach the island, the presence of Manaphag grows more and more dominating.
The South Face trail is the most exciting, severely unexplored, and it starts from the coast, at sea level. It loses no time in manifesting its steepness and difficulty. There is no trail. As of 2009, the only person who can reliably take you to the summit by the South Face is Mang Dagul Atanoso, who at 70 years old shows no sign of weakness. He was also the one who guided the Sibarong Backpackers. You will have to navigate through the contours of the slope, hold on to branches as you lift yourself up the steep terrain of 70-80 degrees. It is grueling, not only for the slope but also for the thorny plants and numerous red and black ants.
Occasionally, there would be the rewarding view of the neighboring islands, but most of the time it is physical climbing and scrambling. Even the summit is without a view, but the achievement of scaling this mountain is enough reward nonetheless. The North Face descent is very easy, it is quite longer but much faster. It ends in Sitio Ponting and from there you can walk back to your lodging place. Since there is only one trip per day (6 AM from the island to the mainland and 10 AM return trip), you have to spend at least one night in Pan de Azucar. While you're at it, sample their seafood or local halo-halo, bask in the silent night (lights go off at 9 PM), and relish the experience of going for a road less travelled, a mountain still undiscovered, but totally enchanting! (G. Lasco, May 2, 2009)
ITINERARY
Day 1
0700 At Tagbak Terminal (Jaro, Iloilo) take HPQ bus to Concepcion
0945 ETA Concepcion; walk to the fish port
1000 From fish port, take only trip to Pan de Azucar (1000H)
1100 ETA Pan de Azucar Island; ask around for mini-"resort"
1130 ETA mini-resort; lunch, ask for Mang Dagul to guide
1300 Start trek from coast via South Face
1600 ETA summit of Pan de Azucar
1630 Start descent via North Face
1830 Back at resort
Day 2
0600 Walk to pier to take only trip back to Concepction
0700 ETA Concepcion; take
1000 Back in Iloilo City
SPECIAL CONCERNS
Transportation. Whereas there are Ceres buses to ply the northern highway from Iloilo, the only bus that goes to Concecpion proper is HPQ transit. At the Tagbak Terminal, look for the orange bus. Transportation is 90 pesos one-way. Don't forget that there is only one trip per day to and from Pan de Azucar (1000H Concepcion – PDA; 0600H PDA – Concepcion) so don't miss it. Fare is P35/person. The boat schedule also makes it impractical to camp on the summit, because in that case you will be spending two nights in the island (a forced stay on Day 2).
Logistics. To arrange a trip to the island and the mountain, contact the Concepcion Municipal Tourism Office through Mario Lazarito, Municipal Tourism Officer: Mobile: (+63) 918 311 9523
Telefax: +63 33 392 0309. It is entirely possible to camp by the coast instead of staying at the mini-resort which offers lodging and food for around P250-300/person including meals for a group of 10. Mang Dagul is the expert guide in Pan de Azucar's South Face although you can also opt for the much easier North Face. He insists on bringing companions along (and it is practical to do this considering the difficulty of the trail). Their rates are highly negotiable; paying P300/person is reasonable.
Equipment and clothing. Wear enough coverage for this climb; there are numerous thorns and ants. At the same time make sure you can move freely as the scrambling will require more than legwork. Ropes were claimed to have been used by previous groups and although they would be nice to bring, they are not really necessary as of the trail conditions in April 2009.
MT. MANAPHAG, PAN DE AZUCAR PICTURES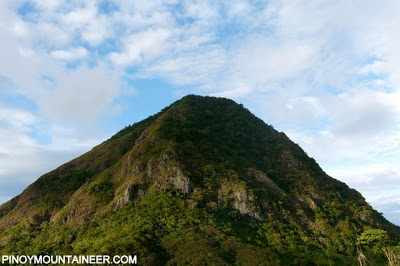 The presence of Manaphag, the "Taas Bukid" of Northern Iloilo, is staggering. (L. Hablado)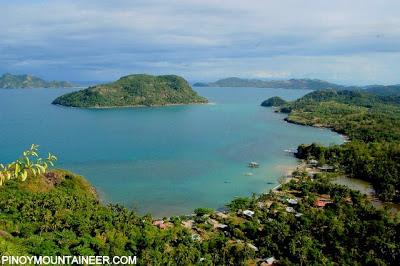 The views along the trail are breathtaking, encompassing the islands of Northern Iloilo and the Visayan waters. (J. Sarreal)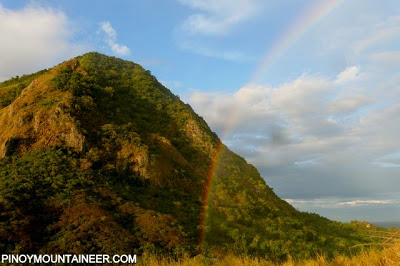 Just before dusk while the Visayan Voyage team ascended the mountain, a rainbow appeared. (L. Hablado)
TRIVIA
Mt. Manaphag, Pan de Azucar is the fourth mountain in the Visayas Voyage and was climbed by the blogger's team on Easter Sunday 2009.
MOUNTAINS OF THE VISAYAN VOYAGE
Osmena Peak/Traverse to Kawasan | Hiking matters #52
Mt. Kanlaon/Guintubdan Trail | Hiking matters #53
Mt. Talinis/Traverse to Casaroro Falls | Hiking matters #54
Mt. Manaphag, Pan de Azucar | Hiking matters #55
Mt. Madjaas | Hiking matters #56