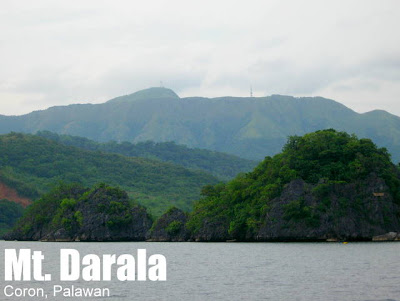 MT. DARALA
Coron, Palawan
Major jumpoff: Brgy. Balisungan, Coron
LLA: 600 MASL
Days required / Hours to summit: 1 day / 3 hours
Specs: Minor climb, Diffculty 3/9, Trail class 1-3
BACKGROUND
The highest mountain in the famed and beautiful Calamianes Group of Islands in Northern Palawan is Mt. Darala in Busuanga island, located in the tourist town of Coron. The more popular destination is Mt. Tapyas – the hill that overlooks Coron town and harbor, but being the highest, Mt. Darala is a challenging, Batulao-level dayhike that can be integrated in a trip to Coron. For more information on visiting Coron, click the Travel and Adventure Destinations: Coron page in PinoyMountaineer.
ITINERARY
(From Coron Town)
0400 Take tricyle to Brgy. Balisungan (P200-300, roundtrip)
0445 ETA Brgy. Balinsungan, Start trek
0800 ETA Summit of Mt. Darala
0830 Start descent
1030 Back at jumpoff; Head back to town
SPECIAL CONCERNS
The trail gets muddy during the rainy season, and the views get obstructed so the best time to climb is a clear, summer day. This excellent vantage point will give you the views of Coron Island as well as nearby islands and islets, including Calauit island (NW), Cullion island (S), and many others.
The summit is marked by a cellphone tower and there is a well-marked footpath going up. However, you can still get guides at Brgy. Balisungan. You can also traverse to other sides of the mountain but access may be difficult as it would much more convenient to just have the tricycle wait for you at Balisungan. Being along the way, you can also considering sidetripping to Maquinit Hot Springs after the trek.
TRIVIA
The header photo showing Darala was taken from the Siete Pecados Marine Sanctuary.