Events for October-November: Catanduanes, Lake Holon, Apo sembreak climb, Kibungan, Batad and Mindanao forum at Malindang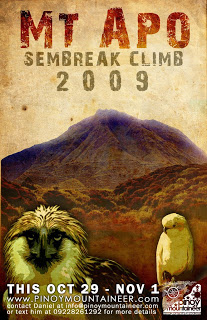 1. GREENCAT, a Catanduanes-based mountaineering club is organizing an event entitled "Preserving Catanduanes island (Mt. Pacogon to Mt. Pacotal), an activity of the Federation of Bicol Mountaineers, Inc. (FBMI) on October 22-25, 2009. Expenses are as follows: Registration fee: P 300; Transportation: TAbaco-San Andres P200 San andres to base camp P25(Capitol Ground) For inquiries: contact GREENCAT _MOC@yahoogroups.com; rodrigueza.baba97@yahoo.com; Mobile: 09295315259, 09079546392.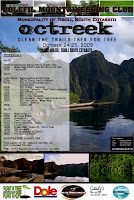 2. The Muncipality of T'boli, South Cotabato and Dolelfil Mountaineers are holding "Octrek: Clean the Trails; Trek for Tree" – a clean-up hike of the beautiful Lake Holon in T'boli, South Cotabato on October 24-25, 2009. For details contact Dolefil Mountaineers @ 09187277853
3. In light of the recent typhoons I'm not sure if this will push through, the 2nd Kibungan Invitation Climb is planned from October 31 – November 2, 2009. I hope the Halsema Highway will be repaired by then and this climb can also be a sort of relief operation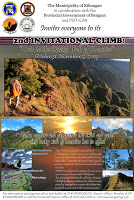 / mission for mountaineers, depending on the situation. At any rate I hope the organizers led by the Municipal Office of Kibugan will update us. Their contact numbers: Kolbel 09059206276 and Brenilyn at 09267360485.
4. Mt. Apo Sembreak Climb is an activity launched by PinoyMountaineer.com in cooperation with mountaineers from Davao del Sur to be held from October 30 to Nov. 2, 2009. Because of the recent typhoons, the Climb Secretariat told me that there were many participants who backed out so there are still slots open in this climb. For more information email info@pinoymountaineer.com or contact Daniel at 09228261292.
5. The Batad Kadangyan Lodges Project Semestral Break 2009 Fundraising Hike on 28-30 October 2009 is a chance to visit the scenic Ifugao side of a Mt. Amuyao traverse – including the villages of Cambulo and Batad, Tappiyah Falls, and of course the beautiful Batad Rice Terraces. PhP 5,500.00, inclusive of roundtrip transportation, eight meals, 3D 2N group accommodation in native huts, two hikes, and one massage. Reservations must be confirmed with a deposit of 2000 pesos (BPI SA # 3889033079; Raymond A. Macapagal; San Juan S&L Branch). For more information: www.batadkadangyanlodges.multiply.com
6. Themed "The Reunion", the 15th Mindanao Forum and Climb will be held in Oroquieta City, Misamis Occidental and will showcase Mt. Malindang from November 27-30, 2009. This event is hosted by Marimax Adventure Outdoors (MAO) in cooperation with CARE-Iligan and HIGHERGROUND of Davao. Highlights of the event include a climb up the North Peak of Mt. Malindang and a chance to see Lake Duminagat and interact with the Subanon Tribe with their rituals. Contact person: Omar "Marimax" Mira: 09075192581; 09267669480.
So there — a lot of upcoming hikes this season!
Email your open climbs and events to info@pinoymountaineer.com if you want them to be posted in the website (emailing however does not guarantee posting). Unless otherwise specified, the above climbs are not associated with PinoyMountaineer.com so for inquiries, please email the respective contact persons for each event.