PinoyMountaineer in Action Asia magazine's March-April 2013 issue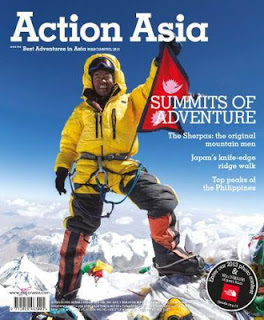 A few weeks ago in Sagada, I came upon a copy of the old
Action Asia
guidebook for the Philippines. It was fascinating: Back then, many of the mountains that are popular now – like Sicapoo and even the Dulang-Dulang-Kitanglad traverse, were unheard of. But more interesting was seeing the images of a young Noel Suministrado rock climbing in Atimonan, and the photos contributed by Banny Hermanos of PALMC, among others.
I mention this guidebook to illustrate the long history of Action Asia Magazine's involvement in documenting and featuring adventure destinations in the Philippines. And for its current March-April 2013, I am honored to be a contributor in Asia's leading outdoor magazine. In "Islands in the Sky: Top Peaks of the Philippines", I feature a sampling of what the Philippines has to offer in terms of hiking adventures, and I wrote of Apo, Guiting-Guiting, Pulag, Amuyao, Bulusan, Dulang-Dulang & Kitanglad, Mayon, and Kanlaon, trying to be as geographically representative as possible. The other articles in the magazine are likewise hiking-oriented, including a story about an exciting ridge crossing in Japan that kinda reminds me of Taiwan's Holy Ridge.
I thank Steve White, the magazine's editor-in-chief, for his patience and understanding, and for gracing our Mt. Purgatory hike last December (see Hiking matters #317-318). I look forward to doing Mt. Guiting-Guiting with him in the future!
Action Asia magazine is available in bookstores in the Philippines and around Asia. Check out their website: http://actionasia.com/ or follow them at @ActionAsiaMag on Twitter.