Hiking matters #70: More on Batanes / SEAIR, BCTA relief operations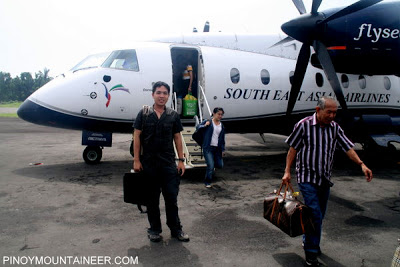 Aside from the incredible experience of exploring Di'nem Island, Tito William (president of the Batanes Mountaineers) also led me to the Nakamaya Burial Grounds to see the stone boat-shaped burial site of ancient Ivatans. It was a thirty-minute trek and at the end you can see the ruins as well as a nice view of Batan's northern coast. Truly there is so much to see in Batanes, and for the first time I was able to sample fresh delicacies such as raw tanigue and lightly-boiled octopus which served as pulutan. Again, thanks to the Antonios and the Batanes Mountaineers.
While I was in Batanes, I also covered a relief operation by Southeast Asian Airlines (SEAIR) and Batanes Cultural Travel Agency (BCTA). In response to the food shortage in the province, these groups mobilized to bring much-needed commodities to the island province. (Food supplies declined at an alarming rate when Typhoon "Pepeng" stopped cargo planes and ships from delivering provisions to the island. SEAIR and BCTA, in cooperation with the provincial governor of Batanes and Ateneo Professional Schools, is launching special cargo flights carrying relief packs containing rice, canned goods, powdered milk, sugar, noodles and biscuits.)
"SEAIR added flights to transport much-needed supplies to our northernmost province," said Avelino Zapanta, SEAIR president. SEAIR and BCTA are helping some of the 1,772 families in Batanes affected by the typhoon and the shortage of food due to suspension of cargo ship deliveries. This is composed of 311 families from Uyugan, 214 from Itbud, 122 from Imnajbu, 149 from Ivana, 64 from Mahatao, 162 from Basco, 320 from Sabtang and 430 from Itbayat. The airline also announced that it will continue accepting donations for Typhoon Ondoy flood victims as well as aid for the Batanes food shortage until October 16.
Zapanta said contributions in kind or in cash will be accepted and duly acknowledged by SEAIR from 10:00 AM to 4:00 PM, Mondays to Saturdays. The following venues receiving donations are: SEAIR ticketing office, Room 202 Lao' Center Building, 1000 Arnaiz Avenue (formerly Pasay Road) corner Makati Avenue, Makati City; SEAIR Domestic Airport office, Terminal 1, NAIA, Pasay City; SEAIR Cebu office, Door # 3 YMCA Building Jones Avenue,
Cebu City; SEAIR SM Clark, Unit 166 SM City CSEZ, Clarkfield, Pampanga; and SEAIR Caticlan, Caticlan Airport. For more information on how you can help, please contact SEAIR Call Center at 849-0100. SEAIR and BCTA, in cooperation with Jay-J's Inasal, are also participating in a food distribution program to provide thousands of flood victims in Marikina and Tanay, Rizal with fresh hot meals.
Picture courtesy of Sir William Antonio and Batanes Mountaineers