In Memoriam: Jay Lorenzo's last comment in PinoyMountaineer.com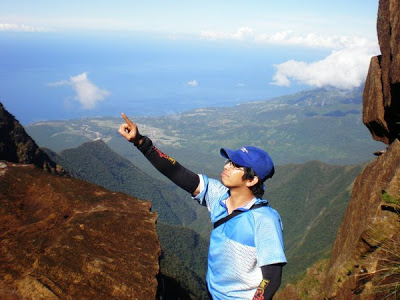 I know that it has been six months since that fateful vehicular accident, but it stirred a new chord in me when I was reviewing the articles in PinoyMountaineer. Unfortunately I oftentimes am not able to reply to comments even though I try my best to attend to everyone's concerns and be of assistance (thanks edge and the others who comment when I couldn't!)
While checking all the comments to which I haven't responded yet, I realized that there was a comment to which I have not replied, and I cannot never respond to. Sorrowfully I read just now what Jay Lorenzo of PALMC, thirteen days before his tragic accident, had written in the
Highest Mountains in the Philippines
post:
Hi Sir Gideon!


Im Jay Lorenzo Of PALMC. Remember the Presidents' Summit? Sir Bambi And I are going to climb Mt. calauit in Sabang,Mt.Province and the reading on the topo map is 2714 mtrs. If that is so then it will be the 10th highest next only to Mt. Sinagkalsa in Kabayan,Benguet.
FYI. Hope you can join us this October or November. God Bless !
Seeing this message just now — after hearing all the tales about this man's kindred spirit, remembering his friendly cheerfulness, and the camaraderie he displayed to all the mountaineers — gives me a pang of sorrow. Until the end of his life he was constantly seeking for new places to explore, new frontiers to discover.
MY REPLY: Sir Jay, sorry for the late reply. Yes I remember you very well and the mountaineering community will always treasure your memory. Although that climb of ours will never happen the way we planned it, we will do our best to live up the ideals that you so magnificently upheld through your life. Mt. Calauit will eventually be summited, and we will reach higher summits; for you we will realize your dreams and keep the flame of adventure burning in our hearts.


Picture of Sir Jay Lorenzo courtesy of Mayan Gutierrez of PALMC.