Letter from Sir Nick of Talamitam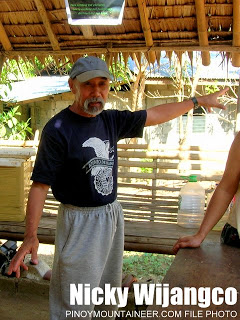 Yesterday I received an email from Sir Nicky Wijangco bearing this letter of appeal. I am posting this in PinoyMountaineer.com since this will doubtless be of interest to mountaineers. Take note that we are merely airing his side; PinoyMountaineer.com is neutral as far as such disputes are concerned.
Dear Fellow Mountaineers and Selected Friends,
At noon today, I logged in a complaint in the Nasugbu PNP blotter regarding a powerline wire-cutting incident last night at 7 in the evening. The incident was designed to sucker me into the open while trying to reattach the severed electrical wires that fed power to my hut. Instead, I asked the help of PNP Region 4 Director General Per Palad who immedietely sent a team to look into my predicament. Because of the police presence, the power lines were attached without incident. Leading up to this event, two of our dogs have already been poisoned and the survival of the third an iffy proposition. Last night's harrassment was merely the latest of a yearlong string of incidents.
On April 16, 2008, I was summoned to appear before Nasugbu PNP Chief Maitim. There was no written charge of any kind but I decided to show up anyway- only to be lambasted by Teodoro "Brother" Ted Calimag and Barangay Kayrilao Chairman Jorge Gerpacio. I had done too good of a job preserving Mt. Talamitam which caused too many of you to come and your inevitable disposable income. Greed kicked in, and the takeover conspiracy was on!
On April 20, 2009, The Calimag brothers, led by Brother Ted, wanted to hack me to death in front of about two dozen PHINOE mountaineers.
On May 10, 2008, I decided to lump several events together that otherwise are spread out through several months. The river cleanup, tree planting and dental mission secured 300 volunteers, only to be scared off by a dozen policemen, 2 barangay chairmen and the big Calimag clan.
On December 28, 2008, I was visited by the Nasugbu PNP for allegedly extorting fees from you, my beloved mountaineers.
On February 17, 2009, I was brought to court by the Calimag clan for allegedly pointing a gun at them. The court dismissed the charge just this 10th of November, 2009.
On April 24, 2009, I was once again visited by the Nasugbu PNP for allegedly possessing a firearm. Member of the Sykes Mountaineering Group witnessed this incident.
On May 22, 2009, I was again harrassed for allegedly stealing a ton-and-a-half of used PLDT wires. The Las Pinas Adventure Group (LASPAG) witnesses this event.
On November 20, 2009, elements of the Nasugbu PNP rummaged through my hut on the strength of a court search warrant secured by Ted Calimag. The search proved negative for a supposed cache of firearms.
And then there was the wire-cutting incident a forthnight ago. Note that between incidents involving the police the had been at least two phycal contacts, numerous attempts to waylay my person; and numerous verbal threats at liquidation!
When I decided to espouse my environmental advocacy at Mt. Talamitam a dozen years ago, I had an inkling about the hardship and the risks I had to endure in my effort to conserve the ruggedly scenic area. What transpired on June 6, 2009 was so mindboggling that it convinced me that government and environment simply cannot mix in this country! On that day, a DENR Undersecretary with a bunch of regional synchopants in tow visited Talamitam. I presented photos of century-old trees poached from within the old forest. Not a single DENR personnel has taken pains to verify my photos to this day, and the rape of the forest goes on. More ghastly, they showed unanimous support for Ted Calimag (the very epitome of the pseudo-environmentalist).
I rest my case. Most of you are aware of the other unethical details. However, no harrassment or threat is going to make me back and leave Mother Nature unprotected! I will make a move soon to rectify this sordid conspiracy; and if the government agencies won't help us, then, so help me God, with your help, we will! Pass this message on to the brothers.
Fondly,
Sir Nick of Talamitam