Mountain News: Mt. Cristobal forest fires now subsiding / Trails, summit campsite not affected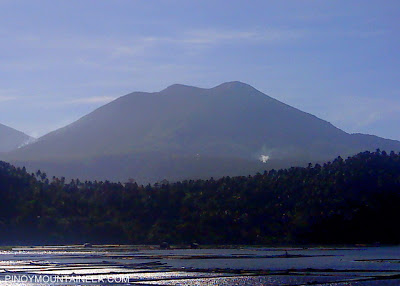 Last weekend it was reported that a "widespread forest fire" has raged in Mt. Cristobal, spawned by intense heat and dry conditions (see INQUIRER article). Today I talked with Ma'am Sally Pangan, DENR Park Superintendent for the Mt. Banahaw-San Cristobal Protected Area, to get updates regarding this incident.
The bad news is that a plantation of narra and other forest trees were damaged by the fire. The area was within the territorial jurisdiction of San Pablo City, particularly of Brgy. San Cristobal. Mountaineers familiar with the Cristobal terrain would know this particular side of Cristobal to covered with cogon grass, making it prone to fires. However, the good news is that the rainforest itself of Mt. Cristobal was not affected by the fire. Moreover, the trail system from Dolores to the summit was intact. According to Ma'am Sally a group of mountaineers have already reached the summit after the fire and reported no damage.
Moreover, the fires seem to be have largely subsided right now. Thankfully, no large-scale damage is being reported although a fuller assessment of the situation will come later. The cause of the fires is still being investigated. We are closely monitoring the situation with the DENR and will give updates as soon as we have them. Since the trail system was not affected, we are not issuing any climbing advisory for Mt. Cristobal at the moment. I am requesting those who will climb Cristobal this weekend and in the near future to give feedback also regarding the situation, particularly for the traverse trail.