Trip Report: 5-day hike of Hong Kong's 100 km Maclehose Trail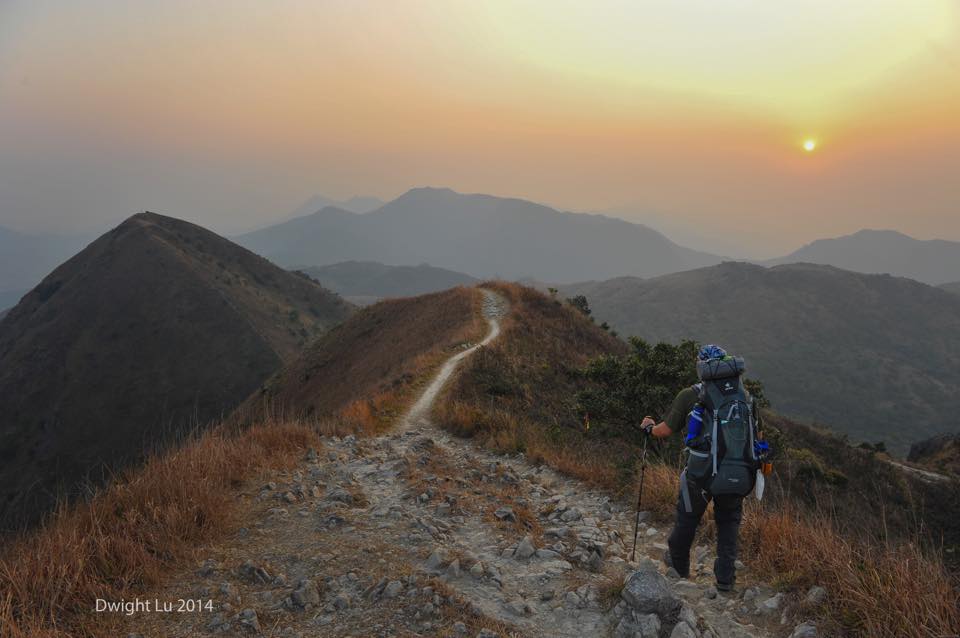 Blogger's note: In the spirit of encouraging hikers to explore more of the Philippines and share their experiences in other countries, we welcome "trip reports" like this one! Just share the following (1) General Itinerary (short description lang of each day, jump off points, and/or sequence of the mountains); (2) Team leader/s (3) Participants (4) Guides (5) What inspired you to do the particular? (6) What are the highlights of the trip? (7) How do you feel about the experience? And email them to news@pinoymountaineer.com.
Maclehose Trail 100km
Location: Hong Kong
Participants: Dwight Lu (TL and author of this account), Terence Go
Date of Hike: January 2014 (5 days)
ITINERARY
Day 1
Stage 1 or (Stage 1-2 if you start early. I recommend this)
– arrive Hong Kong and head off to Mong Kok and buy fuel canisters and denatured alcohol
– get in bus at diamond hill train station and go to Sai Kung.
– once at Sai Kung, get on a bus going to Pak Tam Au.
– once at Pak Tam Chung, find the Maclehose trail starting point.
– start hiking
Stage 2 is distance post 020
(If you start early, maybe you could reach the beautiful campsite on a white sand beach with pine trees and water source, Long Ke Wan Campsite(Mile Marker 021), if not, there is a campsite about half way from starting point going to the beach on the right side (Nam Fung Wan Campsite less than 5km from starting point.)
Day 2
– Just keep following the trail until you arrive at a small village (Sai Wan around distance post 31).(closed 2014 but i dont know it it has reopened now)
We just went around the fence and talked with the villagers and they were friendly
– we camped on a rocky out cropping along the shore here. They have surfing resorts here and you can buy food and drinks
Day 3
Stage 2-3
Walk along the shore with the sea to the right. You will see that the trail will go up a hill
Once you get elevation on this hill and start to walk down the other side, you see a beautiful view of Long Ke Wan and Sharp Peak at distance post 35
You will be following the trail to the beach (Long Ke Wan) and will lead to back in to the forest
Follow the concrete trail until you reach and abandoned village (Chek Keng distance post 43)
There will be a public toilet at the starting point of stage 3, distance post 48.
You will get a good view of where you walked the past 2 days and Ma On Shan going up stage 3 at distance post 51.
Camp site is at distance post 055. Water is available
Day 4
Stage 3-4 (Walk to Ma On Shan)

Continue on along the tail. When you hit distance post 073, there will be a small bamboo forest with hundreds of birds chirping hiding in the bamboo.
Beautiful photos of sunsets around distance post 078
Campsite is at distance post 082. No water
Day 5
Stage 4-5
There is a small stream that you can get water from at distance post 093. we continued our hike and ended at distance post 101 because we were quite tired and running out of supplies. This is just a little bit into stage 5
At distance post 101, there is the famous Sha Tin Pass Noodle shop where many pictures of celebrities are posted. We ended our hike here with a bowl of freshly cooked noodles and a bottle of beer for lunch.
We walked down to Choi Hung MTR Station and ended our trip.
What inspired you to do the particular hike?
I was at an outdoor shop and asked about hiking in Hong Kong I was told that there were many hiking trails and was shown a book. I looked through the book and the Maclehose trail caught my attention because it is 100km long! I have only been on short overnight hikes. So i researched more and bought a book named The Serious Hiker's Guide to Hong Kong. I read that the Maclehose is the most beautiful and scenic trail in Hong Kong, so I told my hiking buddy, Terence Go, about this and he is also up to it. The next time I went to Hong Kong (I go to Hong Kong several times a year for my dad to get treatment and check up because he was diagnosed with liver cancer in 2011), I bought maps for the Maclehose trail and searched for stores where I can buy butane canisters and denatured alcohol for my stove. Thats how I prepared for this trip.
What are the highlights of the trip?
The best part of this trip is the scenery. Its just so beautiful in the Hong Kong country side. The beaches have beautiful white sand with pine trees and blue waters. The mountains are beautiful too especially during sunset. Everyday we saw beautiful scenery.
How do you feel about the experience?
This experience makes me want to do it again, but i still have to checkout the next half of the Maclehose trail. I bet it will be very nice also. I plan to do the whole 100km in one trip next time. I think it will take around 10 days.
How can others do the same or similar trip?
Anyone can do this trip. It is very easy to do. There are no permits involved and campsites are first come first served and free. We brought our food from Cebu so that we no longer have to buy them in Hong Kong. We took an early flight from Cebu so that we could start walking on the day we arrived. Spending one night to sort things out and starting early the next day is also a good option.
MACLEHOSE TRAIL PICTURES