Hiking advisory: Brushfires, forest fires in the Philippines are dangerous climbing / camping hazards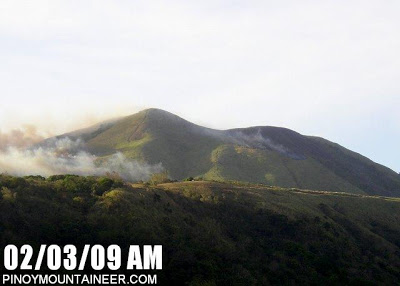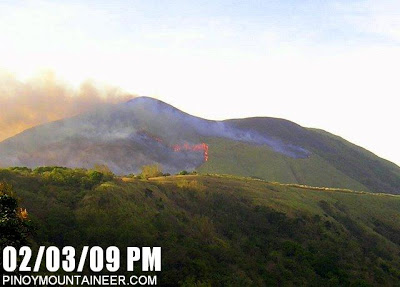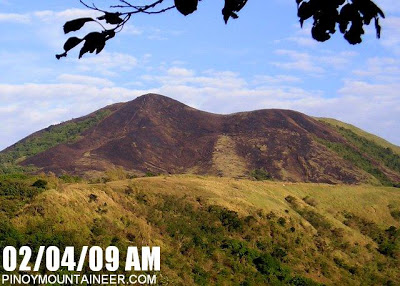 PinoyMountaineer.com periodically issues "Hiking advisories" as a form of warning to fellow climbers as regards conditions in various mountains. However, they are a matter of personal opinion and must be read in that light.
BACKGROUND
Wildfires (brushfires, bushfires, forest fires) in the Philippines occur mainly during the dry season. They are caused mostly by cultural practices and human activities, which could be delibrate (i.e. kaingan or the slash-and-burn method of agriculture), incidental (use of fires to smoke away the bees in order to get their honey), to accidental (i.e. from cigarette butts). El Niño and other cyclical climate changes can further aggravate the risk of wildfire occurence. While the most common damage dealt by brushfires is on vegatation both natural (forests) and man-made (agricultural), there is also the dangerous possibility of brushfires claiming human lives. Although it has not been documented yet in mountaineering history, a malignant brushfire can potentially spread to hiking trails and possibly harm or even kill unsuspecting hikers. After all, brushfires can move as fast as 22 kilometers per hour in grasslands, engulfing hectares of mountain slopes quickly.
PinoyMountaineer.com would like to raise the level of caution among hikers this climbing season as regards brushfires and forest fires, which, due to the hot and dry season, are getting more common and more severe. Already, brushfires have been reported for Mt. Pulag (Akiki Trail), Mt. Ugo, Mt. Cristobal, some Zambales mountains, and several areas in the Cordilleras.
RECOMMENDATIONS
1. Mountains that are comprised of purely grassland/shrubland, especially cogon grass, with no intervening waterforms such as rivers, waterfalls, are at high risk for brushfires. Avoid them if possible, and if you have to climb them, then make sure that you have visibility of the surrounding terrain and contigency plans in case of a brushfire. Set up your campsite in bare areas with safe distance.
2. Mountains at risk include, but are not limited to the following: Anawangin, Balingkilat, Tarak Ridge, Mt. Calavite, Mt. Iglit, Mt. Talamitam, Pico de Loro, Mt. Batulao, Mt. Sembrano, Mt. Pulag, Mt. Ugo, Mt. Tenglawan, and others with similar conditions. Risk assessment however must be assessed on a case-to-case basis. We are not specifically tagging mountains as "must-avoids" due to brush fires.
3. Campfires are strongly discouraged even in wet season (in keeping with the Leave No Trace principles) but they are even more discouraged at this moment.
4. Cigarette smoking is also discouraged. If this is not possible, make sure you dispose of cigarette butts properly. More vigilant use of stoves, burners, et. al is also suggested
5. Please report immediately about brushfires, or mountains you think are at high risk for brushfires, so we can spread to word to fellow mountaineers. Importantly, report also to local authorities such as the DENR-PASU or the local government.
6. Most mountain slopes that are now grasslands are formerly forest areas that were converted as a result of deforestation. Helping out in sustainable tree planting campaigns such as the Ipo Watershed reforestation spearheaded by the UP Mountaineers will help prevent the occurence of brushfires in the future.
Pictures of Mt. Talamitam courtesy of Sir Nick Winjangco.