Hiking matters #82: Thank you!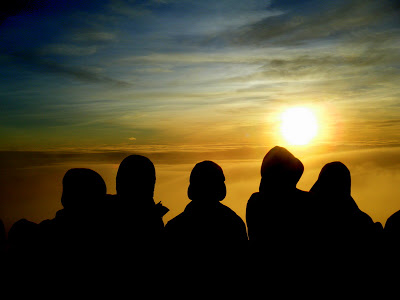 I'd like to thank everyone who joined and supported the Friendship Climb in Mt. Pulag last weekend. It was very nice to be back in Mt. Pulag, certainly one of the most beautiful places in the Philippines. Although I've visited the mountain several times already, each climb is special, and all the more this one.
Also, this climb comes at the heels of problems in local politics that has threatened to unnecessarily close Mt. Pulag. In a way, the visit of our group is a way of supporting the continued use of Mt. Pulag as a destination for responsible visitors. The guides were very appreciate of our visit, and clearly they are doing their best to earn their guide fees.
I had hoped that the itinerary would go smooth but we encountered some difficulties, particularly in transportation. For these inconveniences, I'm sorry for these and other lapses on the part of the organizers, and I appreciate the very understanding, very patient disposition of our participants. Thanks to your compliance to the itinerary, it was followed even ahead of schedule.
I'm still awaiting pictures so I can't post a full-length blog entry yet. But again, I want to thank the participants for supporting the Friendship Climb. I hope the friendships made during the climb will not be lost and we will see each other again in the trails in the future!