My solo expedition to Mt. Apo: The diary of a dream fulfilled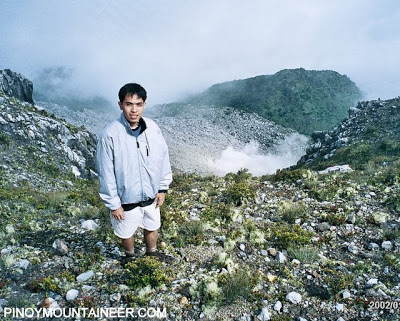 Introduction (written Nov. 10, 2005)
Climbing Mt. Apo was a dream I had thought was beyond me. I heard all about it in textbooks, in the news, in the Internet, but all I knew that in Mindanao there's this Mt. Apo, the grandest and tallest mountain in the country. My first travels to Mindanao last summer, before my 19th birthday, opened a door I previously thought was unreachable, and last month I began to envision a Mt. Apo trip with Franz via Davao or Gen. San…Inay provided the mileage, Uncle the accommodation with Tita Maricar's relatives in Davao, and my parents, my sister, my brother, and of course Teresa all provided moral support for this trip. I was faced with much skepticism and opposition, and even my parents were telling me to reconsider. But I couldn't – giving up is not the way to the stars. Even as would-be companions backed out, I went on, taking risks along the way, armed with courage. And indeed I reached my dream.
Davao City is the best I've visited so far – and I've barely seen all its wonders.
Traveling has been a great privilege that has only been very recently given me. I will seize the day and take advantage of every opportunity to fulfill my grand dream of seeing the world in all its beauty, diversity, and grandeur.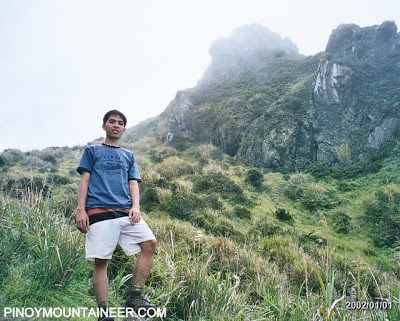 October 31, 2005
7:23 AM. Now in Kidapawan-bound van in front of SM City Davao. I was blessed with a sunny day – I hope this is a good omen. The fare is P140, waiting time around 30 minutes. In a way, because I don't understand Visayan (or Davaoeño) all the conversation becomes like a background to me.
More waiting.
9:40 AM. Arrived in Kidapawan city, van terminal near public market. Pines divide the road, the main street is lined with 2-storey buildings.
12:30 PM. I'm overwhelmed by everuthing…I'm now in Mt. Apo, 1000 MASL. All the people are surprised by my bravery of coming alone (or is it madness?) – from the Kidapawan City Tourism Office to the natives here, one of whom even asked my cell number.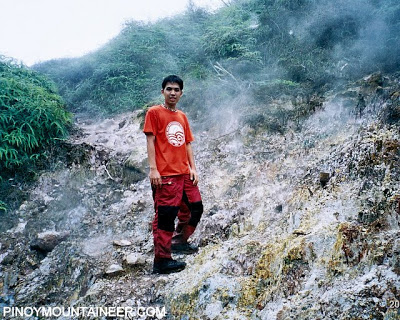 12:49 PM. Now in Lake Agko. Start of trek.
3:00 PM, 1500 MASL. After intense trekking, I've reached Mainit – the first of three stations in the Kidapawan trail. I'm all wet and tired…will cook and have a long trek to Lake Venado if this is still possible. The hot spring to the left (relative to trail going to Venado) is a source of great comfort and warmth. I love hanging out there by myself. Although I have hired two guides to accompany me (one of my parents' conditions for allowing me is that I should take two guides), I feel like all alone in this climb, accompanied only by my resolve to reach the country's highest peak.
4:27 PM. Strong rains forced us to stay here in Mainit; my two guides, Jun-Jun and Arnel, have set up camp and are now cooking. I've met hikers from the Red Cross – Cotabato City chapter and from them, I purchased two butane cylinders (I bought the wrong ones in KIdapawan thanks to Arnel's stupidity)
4:40 PM. I've settled inside the tent with three layers of clothing. Thankfully we're here although I fear the tent will not hold out much longer against the heavy rains (the weather is really forbidding and romantic- I mean, this is the stuff of action and RPGs!) I dread the prospect of tomorrow's difficult ascent to Lake Venado, then the peak. We must really wake up very early in the morning if we are to set camp in Venado (and from there go to the peak in the afternoon and back). This is the most feasible thing to do – I can already imagine how cold the night at the peak will be at 10 C.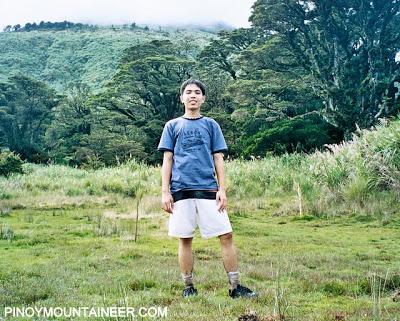 There were lots of 'exhibition' trails, but the route is filled with natural wonders: mosses, lichens, a raging river called Marbel, and for the first time, a sight of Mt. Apo's peak but the difficulty of climbing / crawling through rocks and doing balancing acts on coconut trunks to cross the raging river – all these things render the beautiful sights of towering trees and all the natural wonders I've dreamt of irrelevant for now. The hot spring is really a great source of comfort.
The flora is marvelous; the pine trees remind me of Mt. Pulag.
The river crossing on a log is nerve-wracking, and it really scared me to death. My life, so to speak, is in the hands of the Baroro brothers, my guides.
Good old tent that shielded me from Pulag's chill will now try to rescue me from Apo's rain. It's raining very heavily now, torrent is more like it; I don't even want to go out even though I have to eat. This respite is priceless; tomorrow we can surely reach the peak, or else at least Lake Venado [I recall I was beginning to doubt my plan at this point – edited Nov 9 2005].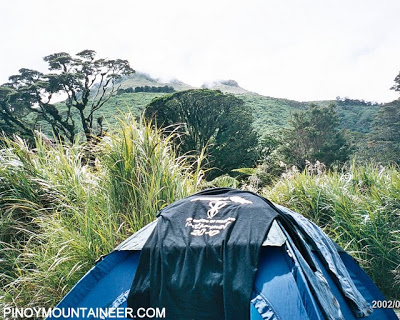 November 1, 2005
4:00 AM. After a shiftless, restless night I opened the tent and found myself seeing the grandest array of stars I've ever seen! I even saw shooting stars, almost every minute…the Milky Way is a milky way indeed! The different constellations came into view! Today we may yet make it to Lake Venado and then the peak. The stars have spoken: it is God's sign. This realization is a great comfort to me, and today I set off to conquer Mt. Apo!
9:56 AM. 2295 MASL, 18.5 C, sunny. We arrived at Lake Venado after just 3 hrs 45 mins. We passed by steep, muddy, and mossy trails – I rested frequently but miraculously, we're here. I'm very elated. The peak is just two hours away from me. Lake Venado is idyll, and I want to bath in the lake!
We journeyed through the forests until around 8:30, and we were told that we're already more than halfway. As we walked through the jungle, to our right were PNOC installation. We also passed by a tall waterfall. Ending the forest path are two 'killer' trails: the '87' and the '90' – numbers that refer to its slope in degrees, both known to have taken its toll on climbers. Fortunately the '90' is now made safer by ropes, and I found it very easy.
We can make it to the peak in two hours – definitely we'll be back here in Lake Venado by 6 PM later. I'm overwhelmed by our luck.
Doubting God, I mistook the shooting stars for lightning and the running river for rain. I was praying for rain to stop, almost complaining, not knowing that God, in his goodness, has already answered my prayer.
Two expeditions from Luzon this week: the Ayala Mountaineers, 96 of them, and me, the Gideon Lasco expedition.
Thank God – he is Lord of all. And today I go to the peak to offer my thanksgiving!
Lake Venado, 2400 MASL
Honestly I'm quite surprised that I'm here. I didn't really realize how difficult this will be. I underestimated the mountain.
It is really sunny. The weather forecasts say it will rain all day, but who is in command? God will not lead me where he cannot guide me.
The mossy forests are picturesque. It's my vision of mossy swamps. My guides Arnel and Jun-Jun are Bagobo. Their language is similar to T'boli, though they say it's very different.
1:37 PM, 14 C, 2,956 MASL. Now at peak of Mt. Apo, the country's highest point! This achievement is truly a profound experience for me. This is not a 3-day climb, but a month-long plan and a lifelong dream that comes to realization here and now as clouds pass me by. The experience is too deep for even me to fathom.
Wild blackberries, edible and sweet, abound. Below me is a dead lake, the old crater of Mt. Apo's eruption in 1650. It took 2.5 hours to reach this from Lake Venado, and I expect that we'll have difficulty going back – muddy trails amid the cold, and impeding rain even. But it is worth it. Here I am almost freezing but my heart is burning with joy. Miles to go, miles to go, but with God I am ever ready.
I dedicate this climb to God, who granted me a chance to go up here. There's signal here and I called my parents as well as Teresa. My fingers are numb though because of the cold and the excitement; I couldn't text
We're about to leave again. Mt. Apo is my most difficult, daring, and dramatic climb. A momentous event indeed.
The winds continue to blow.
Peak of Mt. Apo, 2,956 +
6:00 PM. My excitement was doused after the arduous trek down. I'm back in Lake Venado but I don't feel that good – it's raining, it's cold, I got a patellar bruise that nearly tore my ligament, and my gut wants to relieve itself already. I hope we can be back by lunch at the jump-off. And by dinner I'll have Auntie Indes' specials!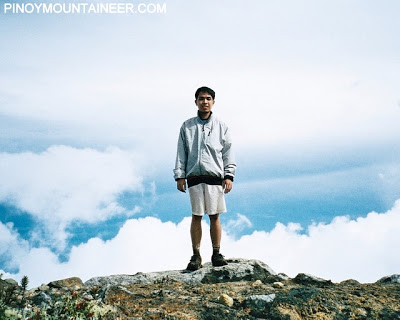 November 2, 2005
5:13 AM, 13 C. Again, miraculously, I survived the rainy and chilly night here in Lake Venado. It's colder than Mainit, and thankfully I decided to spend the night here. Just like the other night, after the rains came a total clearing of the sky.
I am a little scared by the trail later – it's bound to be difficult – the steep descent to Mainit and the river crossing to Lake Agko. But by lunchtime hopefully all this is over.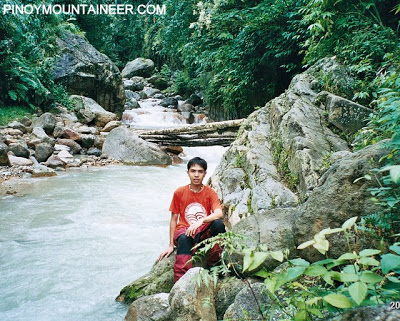 My hired guides are somewhat inadequate but they were able to safely lead me to the peak, and they've been kinder to me yesterday – trying to please me by taking care of everything, even trying to collect one whole bottle of berries for me at the summit. They climbed as my 'servants', in a way; they will descend as my friends.
Lessons: (1) have faith in God always; (2) don't hike alone in Mt. Apo; (3) clothes get wet and it gets so uncomfortable – bring as many garbage bags as possible; and (4) bring as much food as you can, especially chocolates and junk foods.
12:00 PM. We made it back! Details later.
1:24 PM. Now back in Kidapawan City. I picked up my Certificate of Conquest from the Tourism Office.
3:45 PM. The sun burned me while I was in the van, but thankfully I'm back here at the GSIS house. I'm all red with sunburn – cumulative from Day 1 till now – but I'm glad we made the descent in record time: it only took five hours from Lake Venado to the jump-off point – we fared much better than the Cotabato City Red Cross chapter. Normally it takes seven hours to descend.
I paid P1,600 for the two guides. I have wounds, scratches all over but I accept them; they are a trophy for me. Long after they are gone, the memory of this experience will remain and I'm sure it will inspire me to keep climbing and keep pursuing my dreams!
Gaerlan Residence, 16 Eagle Street
GSIS Subdivision, Davao City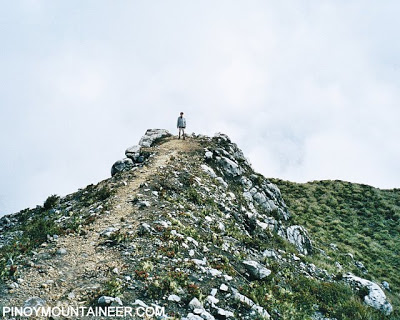 Endnote: Indeed, almost 5 years later, my solo expedition of Mt. Apo still remains, and it continues to inspire me to keep climbing!