Hiking matters #86: Climbing the Taraw Cliffs of El Nido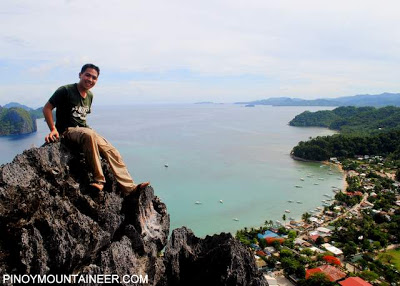 EL NIDO, PALAWAN – I am here for a brief retreat, expecting to just strum the guitar while watching the waves in this calm and beautiful beach, but I couldn't resist it when I saw the words "Cliff Climbing" in one of the tourism posters. It was said to be a quick but challenging activity, and I signed up for an early morning guided climb.
The destination was one of the 'Taraw Cliffs' just within El Nido town proper. Composed of jagged, sharp, and irregular edges, these rock cliffs are a formidable presence in El Nido (and, for that matter, Coron and other parts of Northern Palawan). Although an adrenaline-packed recreation to visitors, traversing these cliffs is a way of life to the locals who harvest the 'bird's nest' that is a prized delicacy in Oriental cultures. At P200,000/kilo, this is one of the major industries of El Nido, which actually derives its very name from the birds' nests.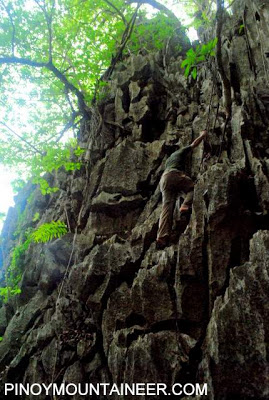 The cliff climb started at 0730H, and it was no joke: you really have to scale some serious rocks with pointed edges. Although it is not too hard (ropes are not needed), it is very challenging for a morning activity; and very rewarding as well. At the top – said to be over 200 meters high – the view of El Nido town and its beach cove – and the islands of Bacuit archipelago littered around it – was breathtaking. Although my thumb nearly got crushed by one of those pointed rocks (thankfully the pain is subsiding), the climb is highly-recommended for vi sitors to El Nido. It will also be interesting to explore the other cliffs which might offer more exciting ascents.
But of course, go head to the beaches and the islands first! Contrary to its reputation as a paradise with exhorbitant prices, El Nido actually has backpacker-friendly places to stay. Also, it is now very convenient to go there with
SEAIR
having twice-weekly flights directly to town. The flight aboard the 19-seater was very smooth and we saw the mountains of Batangas, Mindoro, and even Coron along the way.
We got back from the cliffs at 1100H and had a nice brunch at Alternative Bar and Inn which is a very nice place to chill. It's a lazy day from now on. Back to the guitar and the sound of waves!
To climb the Taraw Cliffs, just go to El Nido town proper and ask for a guide who can take you. According to our guide, the best time to start climbing is early in the morning where the monkeys are still loitering around. Direct flights to El Nido are serviced by SEAIR every Sunday and Wednesday. For bookings visit www.flyseair.com or call +6328490100.