Hiking matters #87: Journeying Java 3 – Gunung Merapi, the Mountain of Fire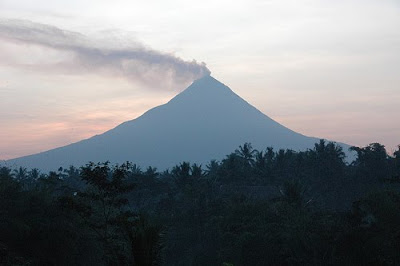 After climbing Gunung Bromo and descending down the sulphuric Kawah Ijen, we proceeded to Yogyakarta to see the ancient temples of Borobodur and Prambanan. Paman Edy, our Indonesian driver and guide, drove us nonstop from Surabaya to Borobodur, where we awaited the sunrise. It was also from here that we caught the first glimpse of Gunung Merapi.
Merapi literally means "Mountain of Fire" and it is an apt description for what is arguably the "most active volcano in the world" (our own Taal Volcano ranks second in some lists). At over 2900 MASL, this volcano is a towering presence over Central Java, visible even from Gunung Penanjakan on our first day, as we turned our back from the majestic view of Gunung Semeru.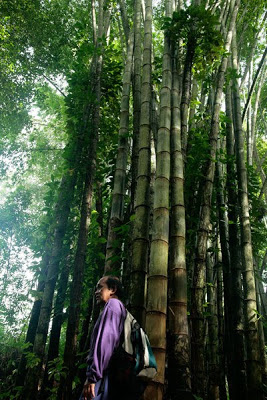 There are two approaches to Mt. Merapi: the first is via the highland town of Kaliurang, which is a favorite of Indonesian students as a place to chill. The other is an eastern approach from the village of Selo, between Yogya and Surakarta. Although this approach takes you to the summit, due to weather and safety considerations we opted for the Kaliurang trail, hoping to catch a glimpse of the lava flows that are said to glow in the night.
So from our temple tour, we headed straight to Kaliurang and stayed at Vogel's Guesthouse. This is a very simple, Dutch-style accommodation, but I loved their Chicken Paniki which is from a recipe from Manado. There was also a good library of books. I was pleasantly surprised to see PinoyMountaineer.com in the Lonely Planet guidebook for the whole of Southeast Asia!

The next day, very early, we were joined by two Dutch guys on the Mount Merapi trek. There was a drizzle when we started, but we pressed on. As we went higher, the guide vividly narrated the history of the volcano, relating its behavior to myths that personify Merapi as a metaphysical kingdom. Disappointingly, there was no lava flow but we saw the rivers of dried lava from the previous eruptions. The forests were very refreshing; the breezes were cool and it was really nice to trek in the slopes of the "world's most active volcano".
We took it easy afterwards, heading instead of the cultural city of Yogya. Having dinner in one of the street stalls at Maliboro Street, and watching wayang kulit, count among. The next day we would be heading to another volcanic feature of Java: the Dieng Plateau.