Mt. Tres Marias Open Climb by Eastern Visayas Mountaineering Club on November 27-28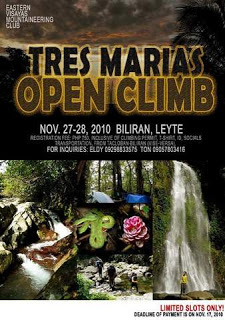 The Eastern Visayas Mountaineering Club is holding a Tres Marias Open Climb from November 27-28, 2010. Our friend Jhoc Nalda is one of the organizers. Mt. Tres Marias is one of the most beautiful, albeit little-known, hiking destination in Eastern Visayas. Last year, it was inscribed in PinoyMountaineer as Mt. Tres Marias (1315+) after a successful climb by the blogger, which was narrated in Hiking Matters #72. I highly recommend this destination for anyone who would like to explore the mountains of Visayas. The fauna and flora are also amazing. This is a very worthwhile climb!
For more information on the open climb, refer to the promotional image or contact Jhoc Nalda at 09172558923.