Maquiling Quest: Mount Makiling Centennial Adventure Race this November 21!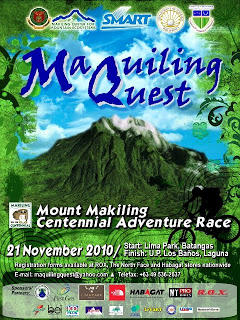 On November 21, 2010, the Makiling Center for Mountain Ecosystems at University of the Philippines Los Banos and its partners are launching the 2nd Maquiling Quest – an adventure race in Mt. Makiling from Sto. Tomas to Los Banos.
This is a very exciting event, which aims to raise funds and promote awareness of Mt. Makiling's unique natural beauty and rugged terrains that are sure to provide a challenge to paticipants. The blogger considers Mt. Makiling his home mountain and encourages everyone to join this event!
For more information, please contact:
BENJAMIN D. ARIZALA
Makiling Botanic Gardens
University of the Philippines Los Baños, Laguna
Telefax: (049) 536-2637 or 536-3572
E-mail: maquilingquest@yahoo.com