Feature: Marley, the three-year old mountaineer
Blogger's note: When Nico emailed this piece to me, I immediately wanted to publish it. Hiking is an activity that is meant to be shared not just with friends, but with family. I myself have climbed with my father, mother, brother, and cousins and these hikes are a very special part of our treasure trove of memories. I thank Nico for sharing with us Marley's hiking and we wish him more climbs in the future!
Juls Marley Rabanillo, a three year old mountaineer who was born on April 12, 2007. Son of Waya Rabanillo (Luksung Tinik Mountaineering Society – PCU) and Roselyne Guiling-Rabanillo (Balikatan Mountaineering Society). "Marley" as we call him started climbing mountains very young, "Energized with Curiosity". Marley's enthusiasm climbing mountains grew and now he is asking for more.
The thought came to us way back 2005 at Mt. Maculot when me and my wife saw parents brining their kids with them on their hiking trip. We promised right there and then that once we have a child, we will also bring him to the mountains and teach him how to safeguard and appreciate our God's Creation.
On his first climb in Mt. Manalmon, he was very jolly along the trail; he was just like playing not minding the heat during the trek. He was so amazed with the huge rock formations, bodies of water and even the sound of the birds. From that moment, I said to myself, "Marley is going to be a "KID Pinoy Mountaineer". Days and months had passed and Marley already added some mountains on his portfolio. His 2nd climb was in Mt. Sto. Tomas in Baguio, then Mt. Maculot in Cuenca, Batangas, Mt. Batulao in Nasugbu, Gulugod Baboy in Anilao, Mt. Balagbag in Norzagaray, Bulacan and Conquered Mt. Pulag TWICE via Ambangeg route. Marley has the basic "know how" on tent pitching and using a trekking pole.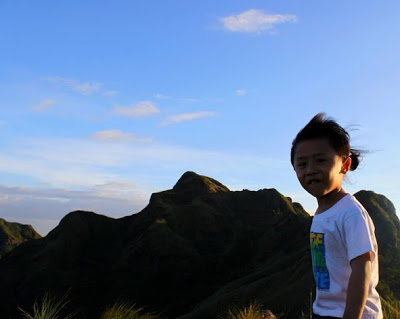 Every time he meets a fellow mountaineers along the trails he never forgets to greet them like "Good morning Ma'am/Sir". Some fellow mountaineers are also amazed with Marley's determination to climb the summit of each mountain. At a young age, he was already educated about the LNT principles and was very keen in following all instructions given to him by his parents.
As a Dad, I am very proud of Marley because at his early age, we can now share not just our hobby but also our PASSION for mountaineering. Teaching your kid to climb a mountain is not an easy task so I congratulate all parent-mountaineers who bring their sons or daughters up the mountains and share to them the beauty of God's creation. We all know that nature is deteriorating fast, exposing your kid with these kinds of activities ensures that somehow, in the future, we have a new generation who can help rehabilitate and preserve this gift from above. Seeing your kid achieve something is very rewarding and the fact that you are with him the whole time…is priceless!
For now, we are eyeing to climb Mt. Tarak in Mariveles, Mt. Manabu in batangas and Marley will be participating on this upcoming Unity Climb on June. If ever you see Marley in one of your trips, don't hesitate to talk to him and definitely, he can share some of his experience when it comes to climbing mountains.
For all the parent-mountaineers out there who are hesitant to bring their kids up in the mountain, try to share your passion with your kids and see how rewarding it is reaching the summit with you your family. Yes we know that it's dangerous but if you plan ahead and do it cautiously, nothing will go wrong. It brings the family together and it's very rewarding once you see the joy in your son/daughter's eyes; the amazement at the awesome view at the summit. Teaching your kid the sense of fulfillment at a young age would definitely stay in their hearts and mind forever. So what are you waiting for? Start them young!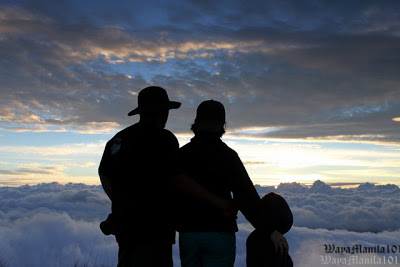 Pictures are courtesy of Nico Waya B. Rabanillo.