Hiking matters #151: PinoyMountaineer Expedition Team reaches the summit of Mt. Kinabalu, 4095 MASL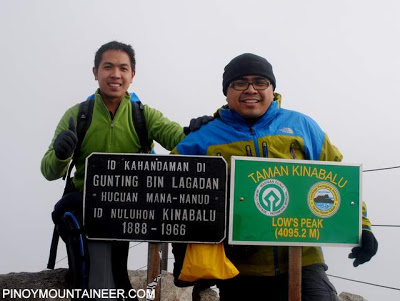 KOTA KINABALU – I am pleased to share the success of the PinoyMountaineer Mt. Kinabalu Expedition 2011! The 30-man all-Filipino team commenced the climb on March 26, 2011, and began the summit assault early the next day. Members of the team reached the summit from 0555H to 0758H of March 27, 2011. The first picture shows me with co-organizer Ivan Henares, and it is very significant that he founded his blog in Kota Kinabalu in 2005, and it was he who conceptualized and set up PinoyMountaineer.com with me in 2007. It was thus such a joyous moment for us to reach the peak with the rest of the team!
It had been raining for weeks in the Mt. Kinabalu National Park, and in some days, the Sayat-Sayat gate was closed, barring entry for hikers. We prayed hard the night before that we would be blessed with good weather, and amazingly, good weather truly came to us, and although it was a mere intermission of the heavy rains, it happened during the moments we needed it the most. It was truly a providential act, and we are very thankful.