A mountaineer's appeal to save Mt. Timbak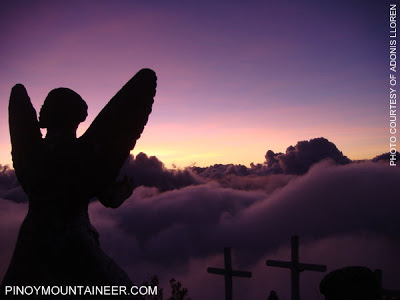 Blogger's note: PinoyMountaineer.com is publishing the full, unedited article relayed to us by Adonis Lloren, veteran outdoorsman who has previously shared with us some invaluable information that led to the creation of Mt. Timbak, Alto Peak, Bakun Trio, and other articles.
Mt. Timbak in Atok, Benguet is popularly believed to be the third highest peak in Luzon. It is separated from Mt Pulag by the Agno river-valley. Mt Timbak is featured in the Lonely Planet for its well-preserved mummies. The eastern slopes of Timbak is also home to the Tinongchol burial rock. You can also find the highest home in the Phlippines near the summit of Mt Timbak. And if Mt Pulag has the best sunrise sea of clouds, nothing beats Mt Timbak's sunset scenery. But above all these, what keeps people coming back for more is the LIFE in Mt Timbak. The mountain itself is not really the typical Mt Pulag beauty, but once you've communed with the people there, you know you've found something worth leaving Manila for. And this is always the remark of the people I've recommended Mt Timbak to. The pleasure you get out of climbing Timbak is ineffable. There is still much more to discover and crave for about Mt Timbak.
But I am writing this article before this magic of Timbak is lost. Mt Timbak is not my property. But I'll do everything I can to protect and preserve a paradise threatened by irresponsible climbing and commercial tourism.
I first climbed Mt Timbak in 2006. Back then, there was scant information on the mountain except for two lines of 'excerpt' on the news of The First Philippine Mt Everest Expedition Team doing a training climb there and other Benguet peaks. Mt Singacalsa (a.k.a. Mt Timbak) was just a name in anonymous lists of highest mountains in the country. That first climb was followed by my first attempt on Luzon 3-2-1 (Dec 2006) with the bravest and toughest climber I had
ever met (May you rest in peace Sir Nixon Olbes). This was followed by three more ascents, the most recent of which was on my birthday last October. During these climbs and communion with the locals, I have learned the things that should and SHOULD NOT BE DONE in Mt Timbak.
Today I saw a post of an online buddy, and in the pictures I saw something which the locals of Mt Timbak disapprove of. PERCHING UPON THE CROSSES in the mini-Calvary is STRONGLY DISCOURAGED. Taking pictures of (and with) them is already even considered sacrilegious (but tolerable). They consider the mini-Calvary SACRED GROUND for your information. Once, an uninvited visitor climbed on it and one arm of the cross snapped.
There is no registration in Mt Timbak so the money spent on the fix came from the farmers' pockets. They actually painted the sculptures there FOR US. They thought we would appreciate it more.I was lucky to see the rustic eerie look of the mini Calvary.
Secondly, the locals there LIVE OFF their vegetables and their farms. NOT BEING ABLE TO FIND THE TRAIL DOESN'T GIVE YOU THE RIGHT TO TRAMPLE ON THEIR PLANTS—their source of living. These people are genuinely kind and hospitable…just don't step on their plants. That's the thing they hate the most—DISRESPECT FOR OTHERS' PROPERTIES. Please don't let this misconduct be associated (by the locals) with mountaineers. Don't give Pinoy Mountaineering a bad name.
Another consideration that I have to share with you is also related to their farms. Now this may sound funny to most of you but THEY DISCOURAGE AN UNMARRIED COUPLE SPENDING THE NIGHT IN ONE TENT. They believe that doing THAT THING yields bad or NO harvest. It's their belief system and we, as intruders, HAVE TO RESPECT THAT.
Lastly, I have this note on commercial tourism. As much as possible, please avoid engaging in any monetary transactions with the locals. If you feel indebted to their kindness, return it IN KIND. Ma'am Rhovee Dadis, Sir Borriz Caparuzo and others unmentioned have set good examples. When you just open your hearts you'll know what they need (although they could well provide it for themselves without our help). There's actually not much they could benefit from
us INTRUDERS, who, with the simple act of visiting the place, have committed our first mistake—disturbing their peace. And trust me, the last thing they'll need is THE SICK IDEA OF KINDNESS TRADED FOR MONEY!
I reiterate, the locals of Timbak (and the whole of Benguet for that matter) are GENUINELY KIND. They are just like the devotees of Zeus in Homeric Greece who considered it a divine
duty to provide lodgings to the weary traveller. Accept their act of kindness, but don't abuse it. If you really want to return it, build your own ARK (Act of Random Kindness). Pay it forward. And writing this is one manifestation of ARK that I could think of. Let's all help in preserving and protecting this paradise.
I AM NO EXCEPTION to this precaution. I MADE SIMILAR MISTAKES MYSELF during my
early visits there. I AM NOT WRITING THIS TO CHASTISE ANYBODY. I am writing this to prevent any further harm to Timbak and other unspoilt places in the country. Let's not wait until this becomes an advisory for the locals of Mt Timbak (who are starting to feel some stigma and disdain for mountaineers).
et's not wait until other future travellers are disallowed entry into thisparadise.
I received this appeal (in the form of a text message) today from Ate Josie, the proprietor of the highest farm in the Philippines and the receiver of the locals' complaints against the destructive influx of travellers in Mt Timbak.
1. Please observe cleanliness and silence.
2. Please respect our beliefs
3. Please don't destroy our livelihood.
PinoyMountaineer thanks Adonis Lloren for sharing his thoughts and we fully support his position regarding Mt. Timbak. For more information on the mountain, visit Mt. Timbak on PinoyMountaineer.com.