Hiking matters #168: Mt. Banahaw dayhike and inspection climb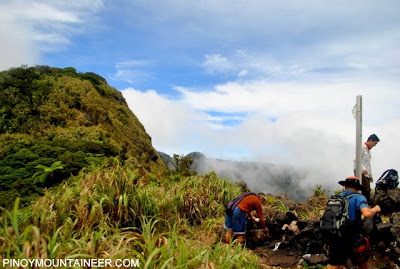 In a DENR-approved climb (Permit No. 2011-023) that coincided with my 25th birthday last May 6, 2011, my friends and I did a Mt. Banahaw dayhike via Tatlong Tangke. I was joined by my friends Jacob Sarreal, Del Bahena, Sir Martin Cortez, Iron Lady Jo Steven, and Pamela Aquino. We were granted an official permit to climb by the DENR Park Superintendent, Ms. Sally Pangan (see below). We aimed to document the conditions of the trail as a third-party, and we submitted our findings to DENR-PASU in an official report.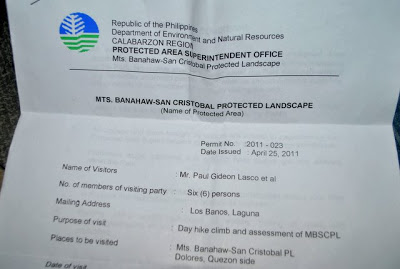 It will be remembered that Mt. Banahaw closed in 2004, supposedly for a five-year period that was eventually extended. There was an overwhelming amount of trash left in the mountain back then, although I must hasten to add that, in defense of mountaineers, they are a minority among climbers up the mountain. As a pilgrimage site, the trash has more to do with picnickers and pilgrims every Holy Week.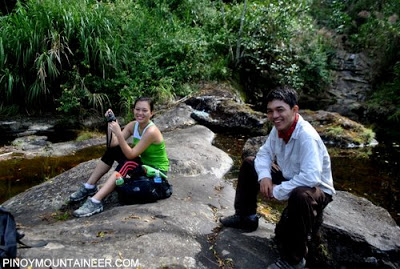 A dayhike of Mt. Banahaw is rarely attempted, but having done it before, I knew that with a fast pace we can make it in less than 5 hours. Still, we assumed an easy pace, paying attention to the trail. After less than an hour we were at Tatlong Tangke, so named after its three pools of water, a place with mystical significance according to folk beliefs.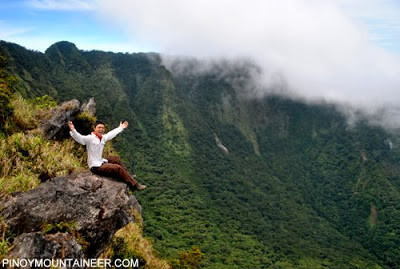 Going past Tatlong Tangke, the trails became steeper but still very conveniently forested, and we were pleased to see that the trails have improved a lot, in the sense that we hardly saw a piece of trash past Tatlong Tangke. We have to thank here the efforts of those who have conducted clean-up climbs in the past, as well as the growing respect for the mountain accorded by locals and mountaineers.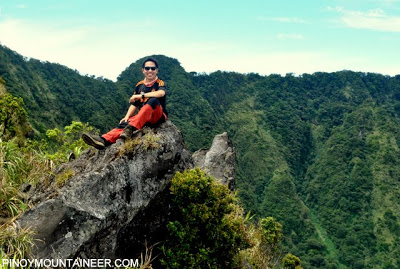 We rested for a few minutes in Kapatagan, the usual campsite. Although there was one garbage pit still full of trash, it was also relatively clean – which again is a good sign. Will DENR reopening Mt. Banahaw next year, after the two-year extension period? The good condition of the trails seem to say so, but our endorsement of this is conditional upon the establishment of a regulated climbing system, with trained guides.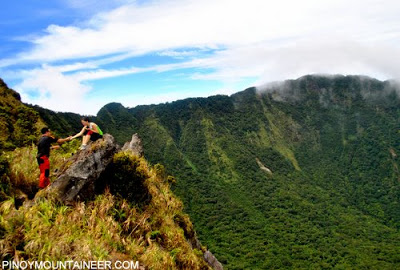 The summit, which we arrived by 1200H, was beautiful as always. We had lunch at the first peak, called Unang Dungaw or Durungawan I. The Iron Lady Jo Steven, seeing this as possibly her only chance to, surprised us with a 10-minute sprint reaching Durungawan II and Durungawan III. Peaks in a summit crater rim, they are excellent viewpoints where one can look down in the vast caldera beneath – a highlight of the Sariaya Trail, which I would love to do in the future.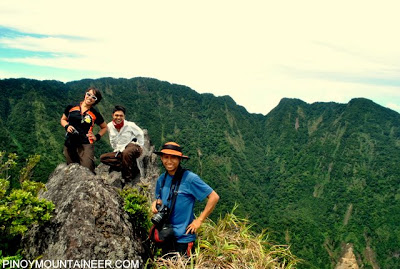 Mt. Banahaw has a special significance to me, as it is the venue of
my very first major climb
, in 2003. It was, at that time, a big deal for me to have climbed the highest mountain of our home region IV-A. After that climb, my grandparents in San Pablo hosted a celebration for everyone who climbed (which included my cousin Franz, my dad, my uncle, and our family friends). After this latest Banahaw climb, following that tradition, we headed to my grandparents' house and they gave me a very sumptuous birthday treat. You already know one of my birthday wishes: more mountains!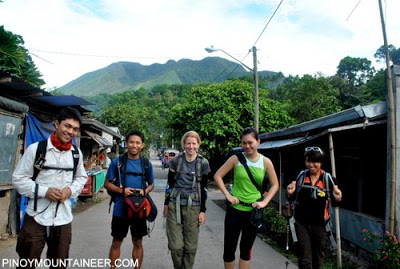 PinoyMountaineer thanks our friend Ms. Sally Pangan for her gracious assistance during the climb, as well as to the barangay officials of Brgy. Kinabuhayan.