Gear Review: Outdoor Products Navigator Deluxe Laptop Day Pack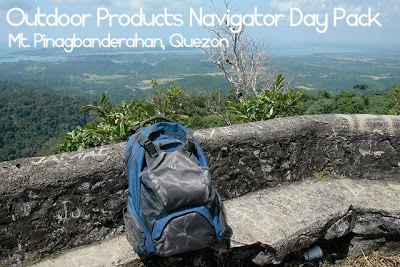 An interesting newcomer in the outdoor bags field is Outdoor Products, an American brand founded in 1973. Probably, you've already started seeing their products in outdoor shops nationwide. One of the most attractive things about OP bags is that they are cheaper than most of their competitors. Last April, I got the chance to try out one of their bags on a hike up Mt. Pinagbanderahan in Quezon National Park in Atimonan, Quezon.
The Outdoor Products Navigator Deluxe Laptop Day Pack is supposed to be a multi-purpose bag but mainly for the city. The "day pack" implies that it can be used in daytrips, whereas "deluxe laptop" conveys the sense of the cosmopolitan. What can I say about it? Well, first, it is a large day pack, able to contain long bond papers and long envelopes. There is a separate compartment for a laptop, which makes it convenient to access it.
There are minor things though. The buckles of the various straps snap too sharply, parang maganit. For its size, I am surprised that it doesn't even have a waist strap or a hip belt; instead, there is one thin strip of a shoulder strap which I doubt would be any use in an action-packed dayhike like a Maktrav. The zipper also looks puny compared to the strong-looking zippers of Deuter and TNF bags, or even those of Sandugo. If you stuff too many things in any of the compartments, it's difficult to zip up; there's a feeling that the zipper might give in.
Also, there are too many compartments in the bag! It's very easy to lose small objects, such as flash drives and memory cards, in the bag. Of course once you get used to it, these numerous compartments can be an advantage.
Verdict: It won't be my first choice for the outdoors, though it will do. However, I use it often when I'm going to the university for meetings and stuff. It can also do as an overnight bag, because I always bring a laptop with me. As for a trekking, I'm willing to give other Outdoor Products bags a try.