Hiking matters #184: Magayon! Aerial views of the mountains of Bicol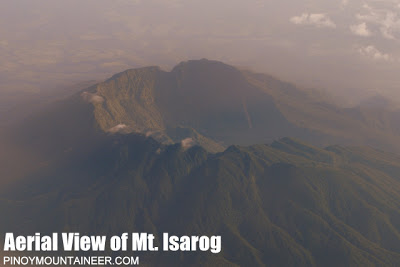 VIRAC, CATANDUANES – I am back in Bicol Region two months after doing seven climbs in eight days here with Iron Lady Jo Steven: Asog, Malinao, Mayon (Old Trail), Mayon (New Trail), Pulog, Binanderahan, and Masaraga. These mountains have made Bicol special to me and now I am back to climb a couple more peaks, this time here in the island province of Catanduanes (more on that in the next Hiking matters).
I took a Cebu Pacific flight to Virac early today, and since the plane was a propeller-type, we were cruising on a lower altitude. This, and the surprisingly great weather, endowed me with splendid views of the Bicol mountains!
First, we flew over Mt. Isarog, and you can really see the contours of the caldera rim – with a vast caldera within. It is really a majestic volcano viewed from the skies.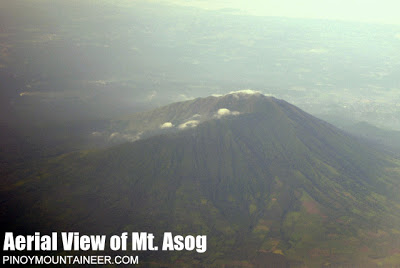 Next I saw the U-shaped Mt. Asog, facing Lake Buhi. Although having a lower altitude compared to Mt. Isarog, it still had its own grandeur.
Finally, I was blessed with a view of the 'Magayon Trio' – Mayon, Malinao, Masaraga – all at once before my eyes! Mayon is the large, perfect cone volcano at the background; mirroring it is the cone-shaped mountain on the right; and irregularly-shaped Malinao lies on the left.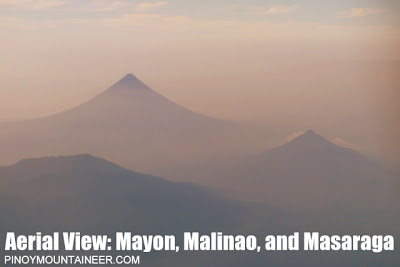 What an amazing sight! And indeed, my beautiful memories with and within all these mountains makes it even more special. It heralded the start of a good day. It is truly very nice to back in Bicol!