Gear Review: Eureka! Solitaire Tent (Preliminary)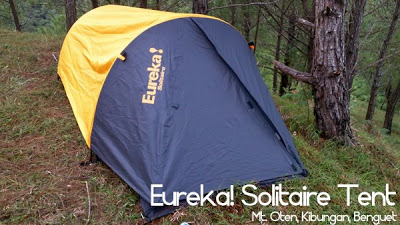 Self-containment is always a beautiful thing to achieve, and often, it is the tent that is the limiting factor. I've always had two-man tents, and I find them too spacious to put inside my regular backpack, a 55+10 Deuter Aircontact. So I welcomed the opportunity to try a one-man bivouac-type tent, which will surely be a great upgrade.
So I was pleasantly surprised when I first tried out the
Eureka Solitaire Tent
for a Kibungan Circuit climb. It weighs just over a kilo (2 lbs 9 oz) and has just 60-70% the volume of my other tents! It is also light on the pocket, costing just half the price of an
MSR Hubba Tent
.
The Eureka Solitaire is a non-free standing, three-season tent which means that it needs to be pegged in order to stand. This was somewhat of a challenge when we camped at the summit of Mt. Oten, which had a very hard surface (no pun intended!). But I was able to set it up quite easily. The fly is attached to the tent itself, so it was easy to just put it over the main body. The
poles are thin, like malnourished aluminum poles, but (so far) they've proven to be stronger than they look.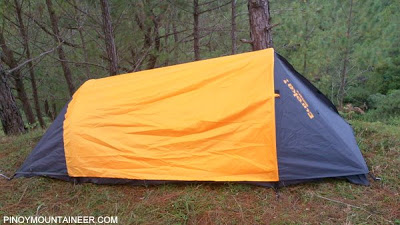 Inside, the Eureka was very comfortable, even luxurious, for me. Length-wise, it is 8 feet long, which makes it very good for me too! I don't know if it's because of lack of sleep the previous night, or the pleasant mountain weather, or truly because of the Eureka, but I had one of my best outdoor slumbers ever! And mind you, I didn't drink, inhale, or inject anything to assist me!
In dire (or ultralight) situations, it can accommodate two people, just like the
Frosty Ridge II
, but the backpacks have to be placed outside. It has practically no vestibule, but what I do is just put a garbage bag over the entrance of my tent, so it can have "unclean" stuff like shoes, gaiters, and a semi-wet backpack. Later, I can place my feet on the pack, which is also good for the circulation (and the legs).
It rained that night, but I didn't notice. Neither my body nor my gear got wet or moist inside the tent – a promising sign!
My decision? I will use it in future climbs! I'd like to try other bivouac tents, but for now, this tent will be my main tent especially since my theme for 2012 is self-containment. So I'm looking forward to another great year of hiking! Of course, since I've only tried the tent once, this gear review is "preliminary". Will put it into tougher tests soon!
THE BLOGGER'S TENTS IN CURRENT USE