Presenting "Buti na lang may climb bukas." a new shirt design by The Perfect White Shirt!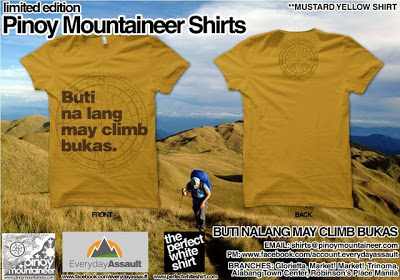 Although not part of the numbered PM shirt series (i.e. Shirt no.1, no.2…), The Perfect White Shirt is releasing a rider shirt entitled "Buti na lang may climb bukas". This will be available on all The Perfect White Shirt branches starting this Sunday, September 11, 2011 for P350.00.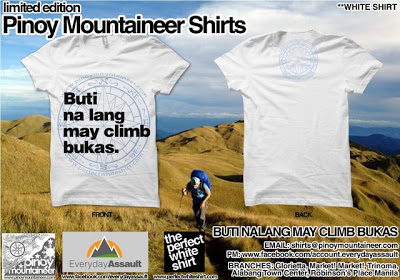 The unique message at the front of the text commemorates the story of a mountaineer who used his passion for hiking as a motivation to be cheerful even when there's no climb; to do one's best in the office or at least; there are better days ahead; a climb is just around the corner, and it is always a joy to look forward to an upcoming climb. Buti na lang may climb bukas!
For advanced reservations and bulk orders please email Philippe at shirts@pinoymountaineer.com.