Announcing PinoyMountaineer Dri Fit Shirt no. 2!

Following the success of the first PinoyMountaineer Dri Fit shirts that were released last April, we are pleased to announce the release of "Drifit #2" which features the flag colors of the Philippines, celebrating Filipino hikers not only as 'hikers', but also as 'Filipinos'. As the most distinctly Pinoy shirt in the PM line thus far, the shirt also makes for a great souvenir. The price of the shirt is still PHP399.
The shirts, produced and distributed by The Perfect White Shirt, uses lightweight fabrics that are suitable for the tropical (oftentimes humid) environment of Philippine mountains. Adding to the functionality, three reflectors are embedded within the shirt. "Drifit no. 2 is a significant improvement [in technology] compared to the Drifit no. 1," says Philippe Arenillo of TPWS.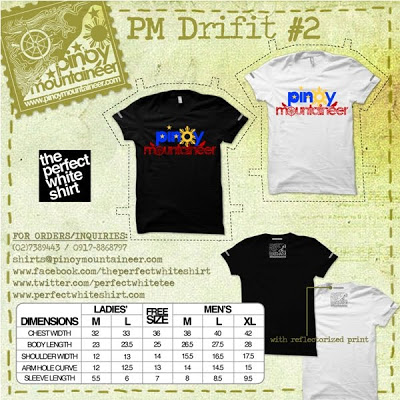 The shirts will be available in all The Perfect White Shirt stalls in Metro Manila (Trinoma, Alabang Town Center, Market Market, Rob Manila, Glorietta 3) starting on July 28, 2012. They will also be available soon in all R.O.X. Philippines stores and Sandugo branches! For reservations, online orders, and more information, email shirts@pinoymountaineer.com. You may also contact (02)7389443 or 0917-8868797.