Gear Review: Garmin Forerunner 305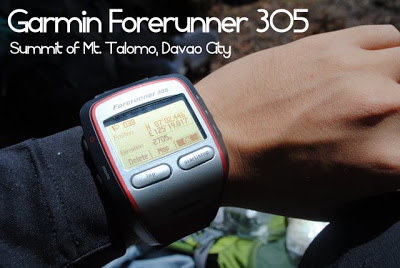 If you look closely at the picture of my Garmin Forerunner 305, you will see that it registers at elevation of 2705 meters, and I was at the summit of Talomo. Does it mean that Talomo is actually higher than Amuyao? Could it be that Talomo is the 10th highest mountain in the Philippines? I'm sure White Peak fans will volunteer this same argument for that mountain which I have yet to climb.
But whatever the answer is, I can now take part in the conversation in a very convenient way, with a GPS device strapped on my wrist like a watch. Moreover, I can now easily plot tracks and have a reliable emergency navigation tool.
The Forerunner is not intended to be an outdoor device; it is more for runners (hence the name), for training and tracking purposes. It even has a heart rate monitor to really keep track of your physical training, but until I become sufficiently addicted to this running phenomenon (I did enjoy my first run, albeit short), I will eschew these functions and concentrate on its relevance to my hikes.
So far, so good. It loads satellites quicker that my previous GPS devices (i.e. Garmin e-Trex H) and can sometimes have readings even in dense forests (i.e. Talomo). Its interface is doubtless, due to size constraints, more laborious than a full-blown GPS device, but it's very handy. Moreover, it is waterproof (dapat lang!) and since it can be charged via USB ports, some of the emerging portable chargers can do the trick, and this is exactly what I did in Snow Mountain, Taiwan. However, if you're just turning it on intermittently, then it can last for four days without charging, as in the case of my Talomo-Apo.
Drawback is, the Forerunner does not tell the time, at least not in a convenient way! And because its battery life is limited, I can only turn it on intermittently. Thus, I am forced to wear two watches – an altimeter watch on the left and the GPS watch on the right – not to show off, but to receive the data that I need on the go.
All things considered (as of now), I like the Forerunner, because it is very easy to bring; I have tried, but did not enjoy, having a GPS device hang on my neck like a gigantic pendant; who knows when the teka-teka will snatch it from me, or when it will hit me on the face when I fall off a ledge!
One last thing: I have doubts about the Forerunner's precision with altitude that's why I will consider bringing a heavier-duty Garmin if I were doing explorations and such. Also, I will not consider its readings as definitive, so the 2705 measurement for Talomo remains provisional, pending more data. But for my usual purposes of documenting and enjoying mountains, this GPS watch is a valuable asset that will see more action in the future.