Gear Review: Swiss Gear Elite Hiking Tent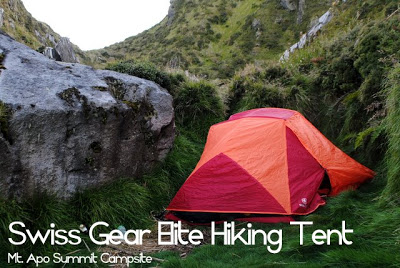 This Swiss Gear Elite Hiking Tent is a birthday gift from a hiking friend, and thus it has a special significance for me, but rest assured that this personal twist does not impair my judgment on this specific tent, one of the three tents I have for current use, the other two being Columbia Frosty Ridge II and a Eureka Solitaire.
What are the qualities of a good tent, in the Philippine setting? Think of the tent in relation to the hiking experience. First of all, you have to bring the tent to the campsite. Thus, portability and weight are the first qualities you would want to consider. At over 2 kgs, this tent is the heaviest among my tents, and the bulkiest too, but it's still not that heavy. Still, I can only use my 55+10 for this tent; my smaller packs cannot handle it.
Second, once you reach the campsite, you would have to set up the tent, and here the Swiss Gear Elite Hiking Tent performs well. As Amazon.com puts it, "its unique hub system makes setup a breeze". This is very true: just clip the tent to the aluminum frame and that's it! The frames being aluminum, though, make for a more finite lifetime, and I've had a segment of its frame go into some wedge-shaped fracture, but it still works fine. Again, plus points for easy setup.
Once you have a tent set-up, you'd want to put your gear inside and again, this tent gets points for a large vestibule, which can easily accommodate two packs and two pairs of shoes.
Then, you'd want to go inside the tent. This tent has a relatively spacious interior; you can actually sit down, as in dome tents, and it comfortably houses two Asian-sized individuals (myself included).
Once inside the tent, you want to stay comfortable, and this means good ventilation and protection from the cold, wind, rain, and moisture. The Swiss Gear strikes a reasonable balance for these elements; some of my friends say it's too cold inside, and it gets a bit moist especially if you don't put a groundsheet under it, but even in its basic form, I think it does the job. Moisture does come in, but as long as you have an earth pad, you won't really get wet. Besides, its relative spaciousness becomes a buffer verus peripheral moisture.
As a free-standing tent, it also does not depend too much on pegs for structural integrity, and it can withstand winds (although I would prefer a more streamlined tent in Tarak Ridge).
Finally, after using the tent, you want to put it back in your pack. Disassembling the Swiss Gear Hiking Tent is as easy as setting it up.
So it's no MSR Hubba Hubba, but it will do as a normal tent. It's as normal as it gets. And in my experience, normal gear (like my six-year Kovea stove) have a tendency to become special through the years.
I will do gear reviews of my other tents soon!