Gear Review: High Sierra Titan 55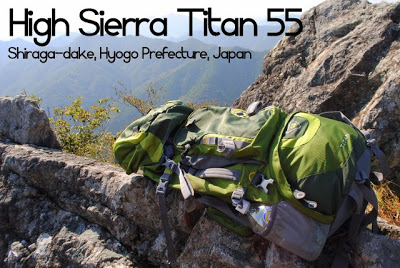 If you're wondering what bag I'm wearing in the latest cover photo of PinoyMountaineer, it's none other than a High Sierra Titan 55. I've mostly used Deuter packs since 2009, but I'm always on the lookout for exciting bags especially if they happen to be color green – this is my favorite color.
I used the Titan 55 in the two-day Mt. Ugo Traverse and the four-day Talomo-Apo Traverse. Moreover, I used it as my travelling backpack in Osaka, doubling as daypack in Shiraga-dake.
Initially, I was impressed with the lightweight, smooth fabrics that went with the Titan 55 (that's why I considered it as a potential daypack in the first place). In terms of functionality, it is no different from any normal pack. It looks sleek for a 55-liter, and I was actually skeptical if it can really hold 55 L worth of stuff, but it actually did; it was just designed to really be a slim-looking bag; "streamlined" as the product description puts it.
Its back support takes some getting used to, if you're coming from the cushion-like . Indeed, I would give the Air Contact series a higher grade when it comes to back, because of the pads at the back. However, the High Sierra has its own way of providing back support, with its High-density foam-padded back panels. And as I found in Mt. Apo, it works well, it just needs some breaking in. Considering that we were trekking for 12-14 hours a day in that Difficulty 9/9 trek, I think the Titan 55 did a great job!
It also has strong zippers, which is a seemingly minor but a very important attribute of a bag. A unique feature is a hinged front pocket with mesh side gussets, which can double as a trash bag for those among us who love picking up trash along the trail – or a rope compartment – or even a trail food compartment.
I'm not too impressed with its raincover, though, which I find too thick and does not conform with the shape of the bag. Fortunately, however, I found a black Gregory raincover in Taiwan which can (literally) cover up this minor flaw of this bag.
I like the Titan 55, and again, not just because it has a nice green color. It has passed the test of Talomo-Apo, and will probably remain on display in PinoyMountaineer.com for a little longer (also because it matches well with my Mountia long sleeves). I will bring it more often in trips that don't require me to go self-contained, or if my new tiny one-man tent, the Eureka Solitaire sufficiently impresses me. But that will be the topic of another gear review!