Hiking matters #218: Kibungan Circuit version 2, Day 1: Mt. Tagpaya and Mt. Oten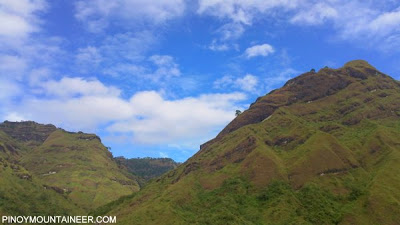 We had long planned a Kibungan climb, and after some delays, including a last-minute cancellation brought about by typhoon Mina, the opportunity finally came to do the Kibungan Circuit from December 10-11, 2011, in a climb organized by Sir Martin Cortez. My hiking partner during the climb was no other than Leo Oracion, the first Filipino to climb Everest!
It was a long, winding, and rough road from Baguio to Kibungan, and although we arrived in Baguio City at past four, it was already around 0715H when we arrived at the municipal hall of Kibungan, where we registered and met our guides Roger and Martin. We had breakfast at a nearby eatery, then took the jeep again to Sitio Tanap, where we started trekking.
Since the Kibungan Circuit is a circuit, we would end the trek at the jumpoff, but using a different trail. So it's like a traverse in the sense that you don't pass by the same trail twice, but it's like a backtrail in the sense that you end up where you started. Circuit climbs are not common in the Philippines, but we're discovering more and more of them!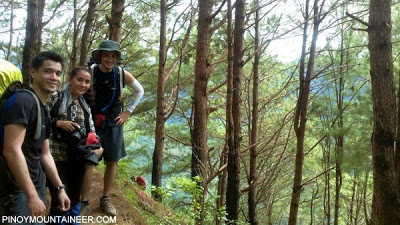 We decided to do the version 2, which will take us to three peaks: Tagpaya, Oten, and Tagpew, in two days. It was already 0930H when we started trekking from Tanap; a quick descent took us to a hanging bridge, then up a community called Abas, and it was a delight when we finally reached the pine tree line; we had lunch in Buga. Along the way, we saw views of the Tanap Rice Terraces.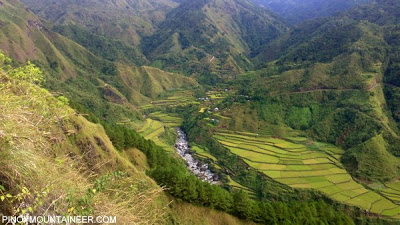 It started raining after lunch, and we took shelter in a nameless rock cleft beneath Mt. Tagpaya, and wonderfully, I fell into a siesta! Rains stopped eventually, and soon we were at Mt. Tagpaya, at 1820 MASL the first peak in the Kibungan Circuit. Although there was cloud cover, the peak was nonetheless a dramatic, rocky ridge.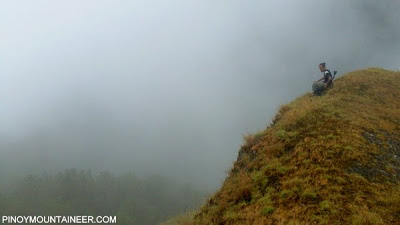 From Mt. Tagpaya, we proceeded to Mt. Oten, via a series of narrow trails on rolling slopes and ridges surrounded with pine trees. One of the highlights of the trail is what locals call the "Oldest Pine Tree" – a big pine tree that stands out and marks the start of the final descent-then-ascent on the way to Mt. Oten.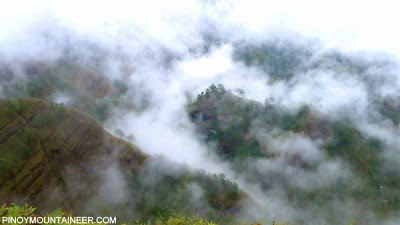 Finally, by 1730H, we arrived at Mt. Oten, where we spent the night. The name oten means 'wild berry tree' in Kankaney, and should not be given additional definitions! The campsite was small, just enough for our five tents, and for the first time, I used my Eureka! Solitaire bivouac tent, which worked perfectly! We were very sleepy and I went straight to sleep after a quick dinner!