Hiking matters #392: Loop hike from Gueroz to Charavex in Martigny, Switzerland
MARTIGNY, SWITZERLAND – After a short visit last November that saw me doing three hikes with Everest climber Leo Oracion and Iron Lady Jo Steven (see Hiking matters #376-378), I returned to Switzerland yesterday, flying from Amsterdam to Geneva, and today I did a nice hike, once again with these two amazing individuals – a loop from Gueroz (670m) to Charavex (1445m) in Martigny, the current town of residence of Leo and his family.
It is already springtime and Leo said they had fantastic weather in the past two weeks. Jo Steven, had been ski touring the whole time, couldn't agree more. Unfortunately, the weather turned for the worse this weekend: it was a cloudy when we started the hike at 1000H, and raining by the time we reached Charavex. Still, the fact that we were starting the hike right from Leo's house meant that we didn't need to worry too much about getting wet.
The trail was immediately pleasant and enjoyable; I realised I haven't done substantial hiking recently and was glad to be outdoors. Marked with red and white blazes, the hike starts on pine forests with rocky trails, passing through some nice walls with bolts that indicate climbing activity. Then when it first emerges from the forest, it offers a view of the valley – including the famous Gueroz Bridge – and the gorge that separates Gueroz from Salvan.
We reentered the forest. The pines were majestic, and joined by occasional hollies and oaks; it reminded me of the trail up Snow Mountain in Taiwan, past 369 Hut en route to the summit (see Hiking matters #211). There were also parts of the trail that were very reminiscent of Mt. Sicapoo (Hiking matters #130). Interestingly, when we were in Mt. Sicapoo, Jo Steven also commented that it reminded her of Switzerland!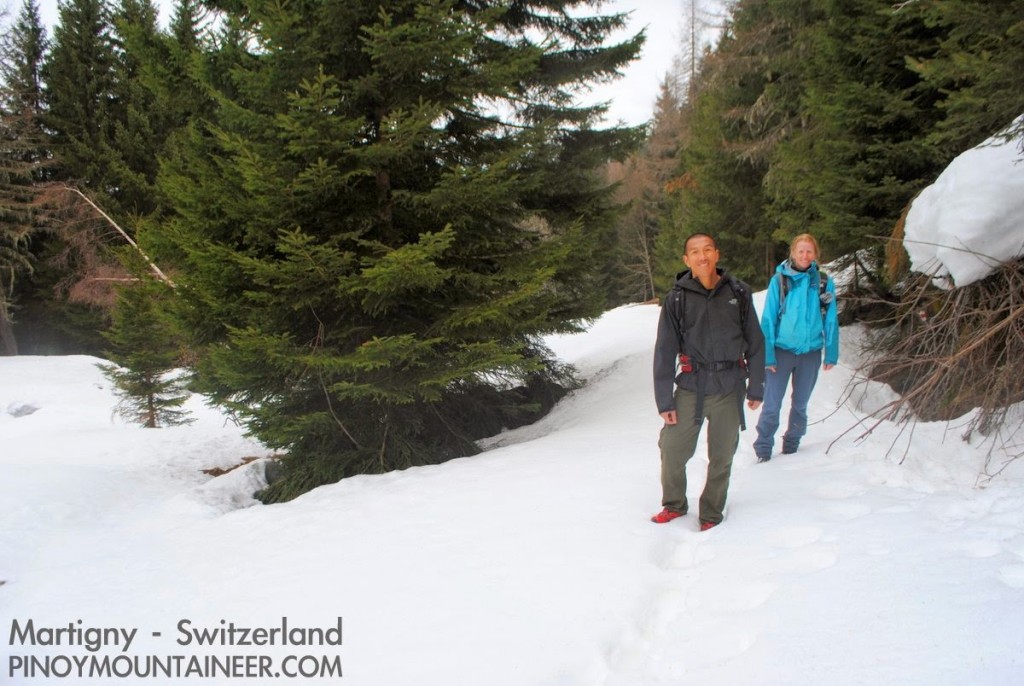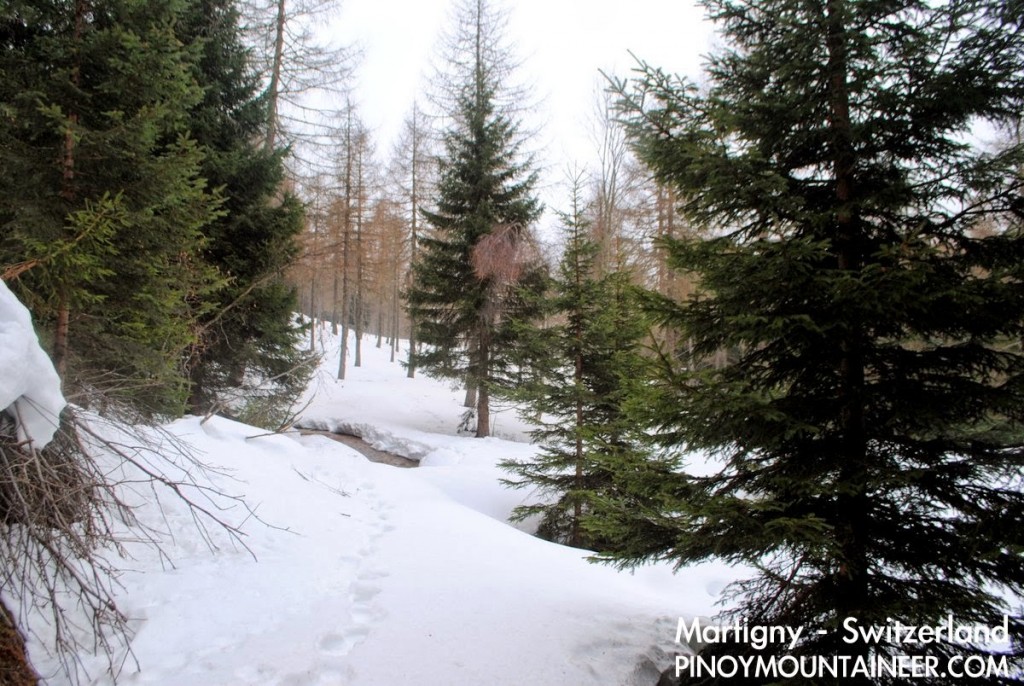 Upon reaching 1200m we encountered snow – and all the way to Charavex we trekked through snowy – and sometimes precarious – trails. The risk of avalanches and rockslides is very real in Switzerland, especially during these liminal periods between seasons. The rain made the snow slushy and a bit slippery; and the menacing rocks above us seemed to be just waiting for an excuse to slide down the mountain. These sections however were short and for the most part we enjoyed the trail.
We had lunch  – gruyere, baguette, strawberries- in Charavex, which turned out to be a charming mountain village; albeit desolate at the moment: it doesn't become a populated village until summer, when it serves as a retreat with stunning views of the valley. From Charavex, we descended through the forests; the trails milder this time, hitting the rough road that took us back to Gueroz. It was a nice day of hiking and I thank Leo once again for the hospitality, and to Jo for coming all the way from Bern just to hike with us.
HIKING IN SWITZERLAND (SPRING 2014)
Hiking matters #392: Loop hike from Gueroz to Charavex
Hiking matters #393: Snowshoe hiking up Mont Noble