Announcing the Snow Mountain (3886) Spring Expedition on April 28 to May 1, 2012!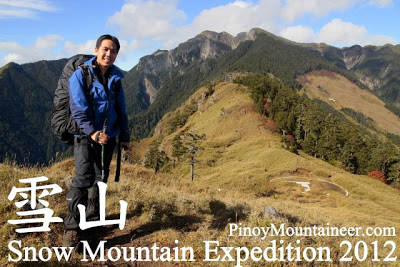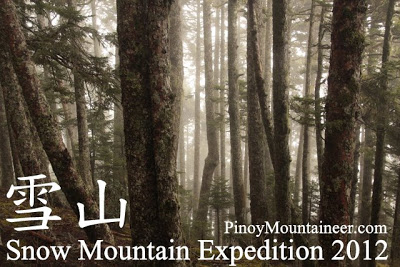 THE TAIWAN OUTDOOR EXPERIENCE – SPRING 2012:
Snow Mountain and Taipei (4D/3N)
Fresh from our successful Snow Mountain ascent last year, PinoyMountaineer wishes to share the experience of hiking in Taiwan by organizing another expedition to one of East Asia's highest mountains for Spring 2012, in an exciting trip scheduled from April 28-May 1, 2012 (see itinerary below)!
This trip is designed for an initial experience of high altitude climbing in a semi-temperature country. Snow Mountain, at 3886 MASL, is almost 1000 meters higher than Mt. Pulag and Mt. Apo, thereby creating a logical step for Filipino hikers. Notably, the Snow Mountain trek is significantly cheaper than the Kinabalu trek, thus making a nice alternative, or even a next destination for those who have already done Mt. Kinabalu.
Building on the our expereriences in hiking in Taiwan in Spring and Autumn 2011, we have designed an itinerary that enables the participants to experience not just Snow Mountain, but Taiwan itself. The scenic hot spring village of Wulai, with its famed waterfalls, is our pre-climb sidetrip, and our coordinators will also take you to Zhongshan Street in Taipei, with its breathtaking bargains – and where alpine gear can be purchased in affordable prices. Finally, the participants will have time to tour Taipei on their own, in the evenings of Day 1 and before returning back. Moreover, we have also crafted the itinerary with the Cebu Pacific flights (the cheapest to Taipei) in mind.
To prepare participants for the unique experience of mid-high altitude climbing, an introduction to alpine climbing will be conducted at R.O.X. Philippines as part of the pre-climb/orientation. Moreover, a training climb in Pulag via the Akiki Trail will be organized to those who are interested. With these preprations, any Filipino hiker can be prepared for this exciting expedition.
Only 20 slots will be opened for the cimb, and some of my friends have already reserved some of these. Thus, seriously interested parties are enjoined to contact us immediately to make your reservation. We will also provide assitance in visa applications for those who will require them.
COST AND INCLUSIONS
The Snow Mountain Spring 2012 Expedition will cost PHP17,500. A 50% deposit will be requested to reserve, and another 50% due one month prior to the climb. Inclusions are as follows:
*Introduction to Hiking in Taiwan (Venue: ROX Philippines)
*Two nights accommodation in a Taipei backpacker hostel
*Two nights stay in mountains cabins in Snow Mountain
*Park permits and entrance fees
*Camp meals (D,B,L,D,B)
*English maps of Wuling Farm and Snow Mountain
*Support from a Taiwan-based coordinator
*Group expenses (communication, logistics, etc.)
NOTE: NOT INCLUDED: Roundtrip airfare from Manila / Airport fees / visa fees / meals outside the trek / Personal expenses
SNOW MOUNTAIN PICTURES (FROM AUTUMN 2011)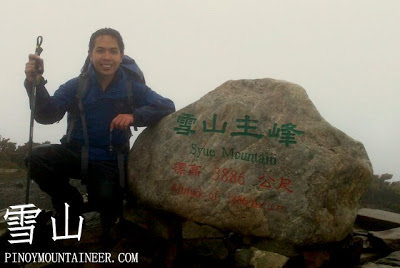 The summit of Snow Mountain, 3886 MASL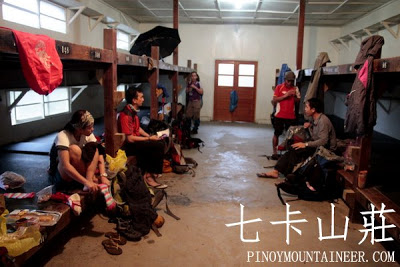 The mountain huts in Snow Mountain are very basic but very comfortable.
ITINERARY
April 28-May 1, 2012
Day 1 (April 28, Saturday)
*Ceb Pac flight departs late evening April 27
Arrival via Cebu Pacific
Rest at backpacker's lodge in Central Taipei
10 AM – Wulai Waterfalls & Hot Springs
Outdoor shopping in Zhongshan Road
Day 2 (April 29, Sunday)
Taipei to Wuling
Wuling to Camp 1
Day 3 (April 30, Monday)
Camp 1 – Camp 2
Summit Assault
Day 4 (May 1, Tuesday)
Camp 2 – Wuling
Wuling – Taipei
Taipei – Manila
*Ceb Pac flight flight arrives early morning of May 2
BOOKINGS/RESERVATIONS
Please send the following information to taiwan@pinoymountaineer.com:
Full Name:
Nickname:
Birthdate (MM/DD/YY):
Occuptation:
Email address:
Mobile number:
Passport Number:
Passport Expiry Date:
Contact person in the Philippines:
Contact person's mobile number:
Hiking experience (I.e. notable mountains climbed):
Food restrictions (if any):
Medical concerns (if any):
NOTE ON TAIWAN VISAS
A Taiwan visa is required for Filipino passport holders, although holders of valid US, Canada, Schengen, Australia, New Zealand, and Japan visas are exempted and need only to secure an
online entry permit form
.