Essay: Going outdoors and staying online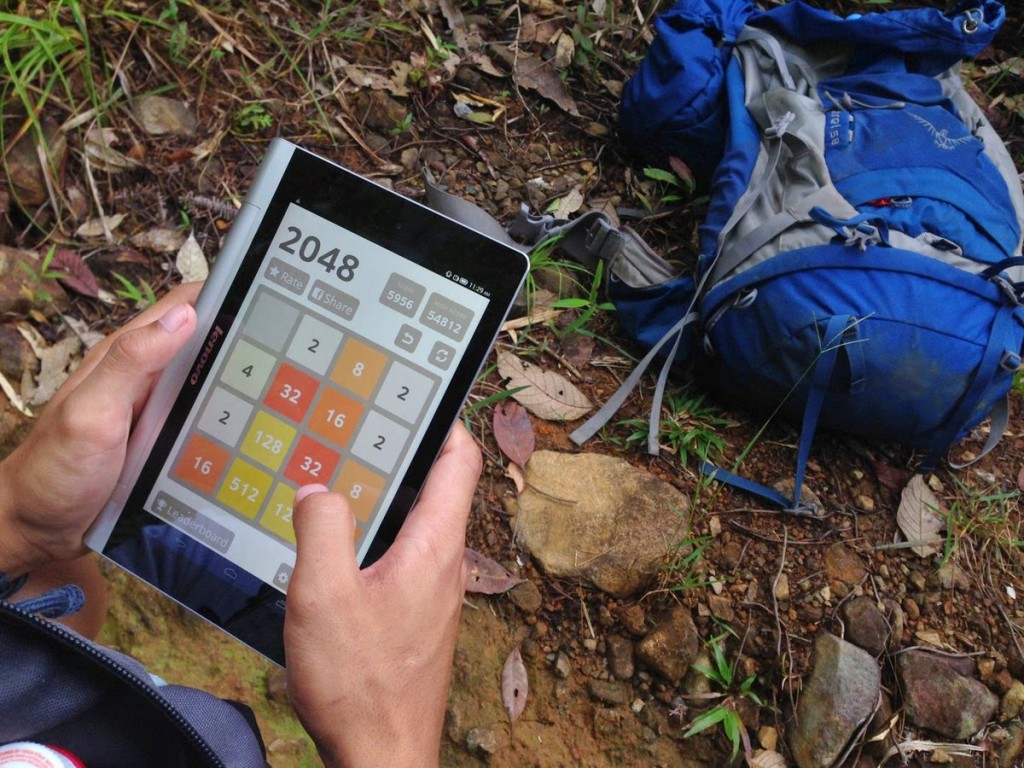 A hiker uses a Lenovo Yoga tablet on a hike up Mt. Salakot
"When was this?" Asked one of my blog readers, upon seeing my picture at the summit of Mt. Tibig in Lobo, Batangas – one of the my more recent hikes.
"Right now. I'm on Tibig at the moment!" I replied.
What was once unthinkable is now a reality: The ability to bring our virtual worlds to the outdoors. Thanks to 3G or even LTE connectivity, we can now post pictures and even videos instantly, and similarly, people – whether they are on their homes or on campsites – can read what you are posting.
What are the implications of this kind of connectivity for the outdoor experience? In this essay, I consider the ramifications of technology, particularly the proliferation of gadgets and Internet access in the outdoors.
First of all, I think our gadgets – smartphones and tablets – have a great potential when it comes to mountain safety. The sheer ability to communicate to others from the mountains is a powerful safety mechanism. In the past, people had to rely on two-way radios with limited range. Today, mountains are increasingly covered by mobile networks, and calling for help has never been easier. This has proved to be a lifesaver in many instances, including Joey Vergara's rescue in Malipunyo, and in many incidents where hikers got lost – but were still able to communicate to rescuers, relaying vital information about their whereabouts. You can even post a status message to say you're lost!
It is not just the ability to communicate that makes. It has navigational uses too – as a digital compass, and increasingly, as a GPS device. Though (expectedly) not as accurate as dedicated GPS devices, it can still give your general location to other people if necessary, or, more usefully, it can help you find your way back. Not many people use this function but in the future, I see that this will be more widespread. Indeed, I see that more and more apps will allow you to track yourselves on a certain route, with the option having the app send this information to rescuers if necessary.
Second, our gadgets have allowed us to bring our loved ones closer to the hiking experience. I have experienced Facetime-ing from on a campsite – showing my loved ones the moss and the clouds, the tent and the camp food. In the Paray-Paray campsite of Mt. Mantalingajan, I spent a good portion of the evening chatting with some of my friends who have done the traverse ahead of me, and I was asking them questions about it. Parents can rest easier when they see their children online, available for chat, albeit on the mountain.
Third, gadgets have allowed a broad range of technologies previously unavailable – or prohibitively expensive – for the outdoors. Before, one had to use an expensive and bulky camera to take good photos. Today, your phone can do the trick – although of course the dSLRs still have a great advantage. But even they have improved greatly, owing to improvements in digital photography. Daryl Comagon taught me how to use an app to take time-lapse videos, and when I uploaded some of them, there were incredulous folks when I said I just took it using an iPhone!
The GPS units and altimeter watches of the past were so expensive that became (and still are) prestige items among hikers. But like I said, many of our gadgets now can come with GPS and navigational apps. I used to bring books during my climbs, though that too, has given way to just having e-books in my phone or tablet.
Camped in Hungduan, after a successful Napulauan traverse dayhike, Koi Grey told me that I should listen to the music of Florante, a Filipino folk singer. My interest piqued, I went to iTunes and downloaded an album of the singer's greatest hits, and we had an enjoyable roundtrip. I could just as easily have downloaded any song – and in the future – perhaps watch any movie. With the world within our reach wherever we are, however, what is left to be desired?
***
AS ALWAYS, HOWEVER, technology has a downside. Overdependence in a mobile phone or any gadget can make people powerless when the battery goes down – or when you drop your phone on a raging river. Power banks are great, but they can also break down and eventually lose power – no matter how much milliampere hours it has in store. While your phone is a great tool in the outdoors, mountaineers must still prepare for situations where there there is no signal, no battery, no phone, and you are left to the basics – like using your whistle, compass, and following the trail using all that we have learned from mountaineering courses and our experiences. In the end, the greatest survival tool we have is still our own minds.
The reliance on technology also applies to the ways in which people can enjoy themselves. For example, the music of the forest can be drowned by the ballads, the reggae and the EDM that we bring with us. Having computer games can make us forget the physical games that can be just as fun – and much more engaging. In Mt. Elbrus' Barrels campsite, we spent a whole day playing pusoy dos, and ultimately, the game would count among our happy memories of the expedition. (As an aside, I also suspect that the less technology-dependent we are, the less impact we make on the environment.)
Finally, connectivity to the outside world can lead to less interactions with those who are actually physically with you. In the past, people really get bonded with each other when they go hiking because they leave the outside world, and form a new social world together, if only for a while. However, today, it is possible for a hiker to hole up inside his or her one-man tent and go on an night-long Facebook chat, play computer games – or even do a movie marathon. When we reach the summit – instead of celebrating and relishing the moment with others, do we instead rush for that perfect solo picture – or selfie – and painstakingly try to upload it? We must always remember that the the view is more important that the picture.
Perhaps, even as a thought experiment, we should consider that there are also security threats inherent to our overly-connected world. Though I have not seen it happen before, imagine what can happen if a thief sees a rich man post this status message on Facebook: "All alone in Mt. Maculot for the night!"
***
IN A WAY, to quote Master Yoda, what's inside every mountain we climb is "only what you take with you." Bring five power banks and your campouts will turn into movie marathons or Facebook nights no different from your being in your own bedroom, but bring only a basic phone without 3G and you will be more likely to see shooting stars – and make new friends; bring a pair of binoculars and you will see the beautiful birds of the forest. Just as the city lights can drown the glow of the distant stars, so can smartphone screens drown the faint glow of the fireflies.
Personally, I embrace technology, and have maximised the ways in which my gadgets can be utilised when I'm outdoors. But I always remind myself that the mountain is my sanctuary, the place where I can let go, and that oftentimes, I need to log out of the outside world to see the beauty that happens in the here and now.
In conclusion, I think it is good that with technology, there are now powerful ways by which, no matter the distance, we can be connected to others and to the comforts of our cities and homes. But ultimately, we must always bear in mind that what mountain provides us is a place where we can be connected to nature, connected to God, and connected to ourselves.
Gideon Lasco
August 25, 2014
Puerto Princesa, Palawan