Hiking matters #472: Hiking up Mt. Nagchajan (1455m) in Mayoyao, Ifugao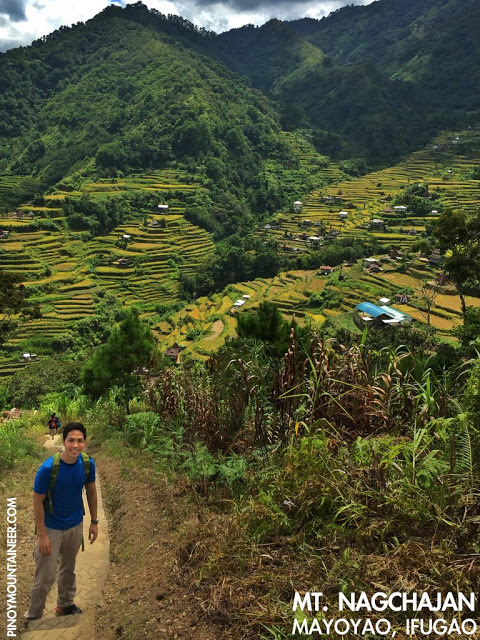 The Mayoyao Rice Terraces, a UNESCO World Heritage Site,
as viewed from Mt. Nagchajan
MAYOYAO, IFUGAO – Today I hiked up Mt. Nagchajan (pronounced 'nagchayan') in Brgy. Chaya, Mayoyao, Ifugao with fellow researchers from UP. The hike, it turned out, was a visual immersion in the Rice Terraces of Mayoyao – one of the five clusters that constitute the Ifugao Rice Terraces – a UNESCO World Heritage Site. The 1 or 1.7-km ascent (depending on where you're coming from begins at the highway in Brgy. Chaya, actually involves trekking through the terraces until you reach the forested parts of the mountain.


A Mt. Nagchajan Viewpoint serves as a rest stop and a historical landmark, commemorating the site where, at the twilight of World War II, Japanese forces led by General Yamashita took their last stand from July 25 to August 7, 1945. This "Battle of Mayoyao" continues to be recounted by locals, with our guide Jason saying that the Japanese had the upper ground, but were besieged, and eventually surrendered. Actually, a road is now being built all the way to the viewpoint, which means that the trek will be an abbreviated one in the future.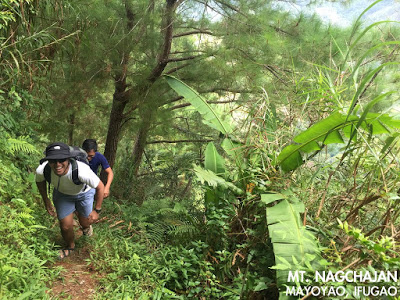 From the viewpoint (1281m), there is a trail that leads to the summit (1455m) where Smart has a tower. Though short, the trek is still a respectable one, with steep ascents on ancient, rocky footpaths. There are enough pines to remind the hiker of Mt. Ugo or parts of Mt. Amuyao. At the summit, we could see the rice terraces and the surrounding mountains on one side; and Mayoyao town proper on the other. From a distance looms the lowlands of Isabela and vague outlines of the Sierra Madre. Beautiful sights all over!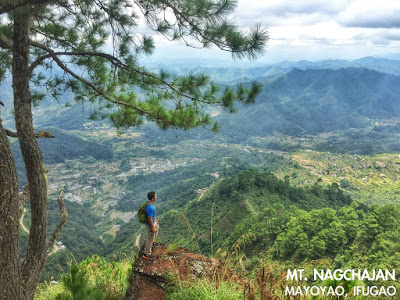 Past the summit my guide Jason and I explored a bit further, reaching the rock that serves as the boundary Chaya and another barangay. Because of the tower atop Nagchajan, and the fact that Mayoyao is just 4 hours away from Pat-yay village, I can say that in some way Mt. Nagchajan is a "mini-Amuyao", a destination in itself or a sidetrip for those who are coming to Mayoyao as part of an Amuyao Traverse. Of course, the Mayoyao Terraces themselves are reason enough to visit, and in this case I would strongly suggest including Nagchajan as part of your itinerary.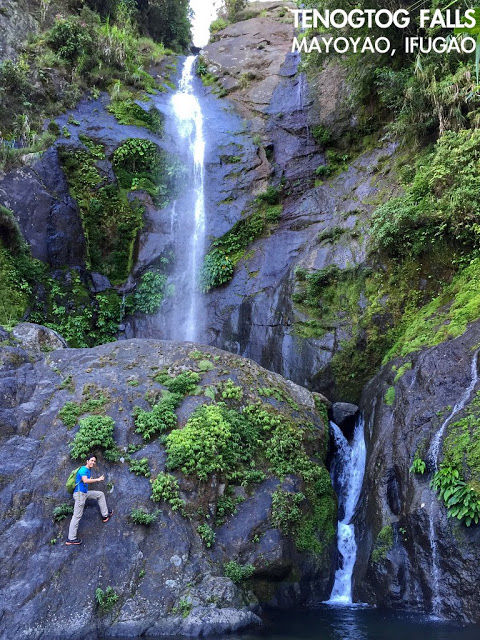 After the Mt. Nagchajan hike we proceeded to Tenogtog Waterfalls as a sidetrip. En route to this waterfalls, I actually saw the trail that leads to Pat-yay Village – and I am very excited to go back to do the Amuyao Traverse via Mayoyao (my Amuyao Traverse in 2008 was the longer, traditional route from Barlig to Batad). Anyway, the waterfalls had two levels, both of which were quite nice. As expected, the day of trekking culminated with a nice dip in the waterfalls. Thanks to Ate Carol, our guide Jason, and Ivan Henares and team for this Mayoyao adventure!