Mountains as medicine: Hiking for health and wellness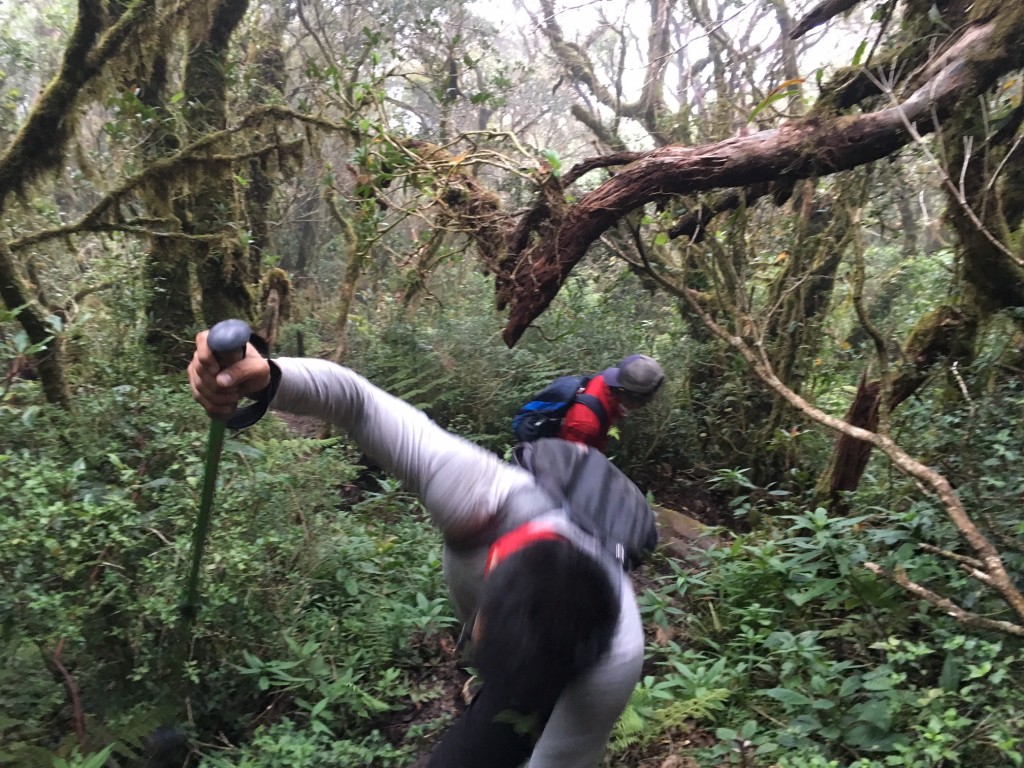 By Gideon Lasco, MD
Note: This article was originally published in Health and Lifestyle Magazine Philippines, October 2013.
As a medical doctor and a mountaineer, I am convinced that climbing mountains is a perfect prescription for the sedentary, urban lifestyle that we have come to embrace in this era of modernity and convenience. It takes care of so many, oft-neglected aspects of our bodies and our lives: from physical exercise to socio-cultural awareness, all of which contribute not only to healthy individuals, but also to a healthy nation.
In our age of cars, elevators, and LRT, walking has lost its place as the fundamental means of transport. When was the last time you climbed more than two flights of stairs? But walking actually plays an important role in health. G.M. Trevelyan said it best: "I have two doctors, my left leg and my right." Hiking makes us realize that we can actually cover so much distance just by walking. This fosters an attitude within us that makes us 'walk the extra mile'.
The more footsteps we take, the less carbon footprints we make. Walking not only makes us healthy persons, it also contributes to a healthy environment. I think it will also help decongest the traffic in our roads when people begin to consider their feet as a means of transport, especially in urban centers where everything is close by.
Of course, hiking is not just walking: it activates other muscle groups, too, not just the lower limbs: the upper and lower back carries your pack; the shoulders assist in balance and helps lift you when the trail becomes steeper. Some studies have demonstrated that hiking helps in the prevention of osteoporosis by strengthening the bones in your back. The more muscle groups are mobilized, the better the exercise, and by this measure, lhiking is a great fitness activity.
Finally, as an aerobic activity, hiking improves our lungs, our heart, our blood circulation. It burns calories, especially if you complement it with other activities like jogging or swimming.
Now, let us go to the mental health benefits. When was the last time you had a full breath of fresh mountain air? When was the last time you heard the sounds of the forests, far from the noise of the city? Hiking may be physically exhausting, but it is mentally relaxing, because it brings us back to nature, where our species used to belong. When I was a medical student, I found out that I actually felt better after a hike, even if I just came from a 24-hour duty! . In the mountains, 'physical exhaustion' can be a very fulfilling feeling. Doesn't it feel great to sweat out your body? Bear in mind too that the mountain is not a treadmill where the best view you can see is a LCD screen. The mountains are beautiful!
At this point, you may ask: "This is all nice and good, but I am no athlete." Is hiking really for everyone? The answer is a big YES! In fact, hiking itself brings us to the realization of how much we can do as human beings. it gives us confidence to do our goals in life. In 2009, our fraternity of medical students – the Mu Sigma Phi – accompanied amputees on top of Mt. Batulao in Batangas. Though they had to push their selves to the limit, they became emotional when they reached the summit. "I made it! I can actually do things like this!" one of the exclaimed.
In this way, hiking is also great for our spiritual health because it molds not just our bodies, but also our character. Perseverance, patience, confidence, camaraderie, courage, faith: these are courses you take at the university of the mountains. Presence of mind, too: and this is a valuable asset in an increasingly uncertain world. When the storms and floods come, a hiker is always prepared. Finally, when we dream of high mountains but realize that we have to start with the low ones first, we appreciate the value of discipline and humility, and we allow ourselves to learn from others ahead of us.
Earlier, I said that discovering the outdoors can help us build a healthier nation. I say this because of the social, cultural, and environmental awareness that climbing mountains bring. Mountains are not just habitats for wildlife; they are also homes for our many of our fellow Filipinos. By encountering them in their ways of life and the struggles they face, we become more concerned and connected to them. We cannot love that which we do not know, and by going there – in the hinterlands of our country, beyond the watchful eye of mass media – we see, we learn, and we begin to empathize.
If you have heard the sound of falling trees, you feel illegal logging and become more empowered to speak about it. If you have heard stories of indigenous peoples and their poverty, you become inspired to be their voice. When social issues become more real, calls to action – and change – are not far away.
There is so much more that mountains have to offer. It is up to you to discover what the mountains can mean in your life. For some, it is an escape, for others, it is a pursuit. Some people climb to challenge themselves, others climb to relax themselves. Others look ahead to the summit and the triumph it represents; others look around the trails and the beauty it reveals. For families, couples, and friends, it is a great bonding activity where we are away from the distractions and stresses of life, allowing us to focus on building relationships. With all its benefits, I can sincerely say that hiking will take you up but it will never let you down.
What are you waiting for? See you on the trails!
Amsterdam, The Netherlands
October 2013