Opinion: So much has changed in a year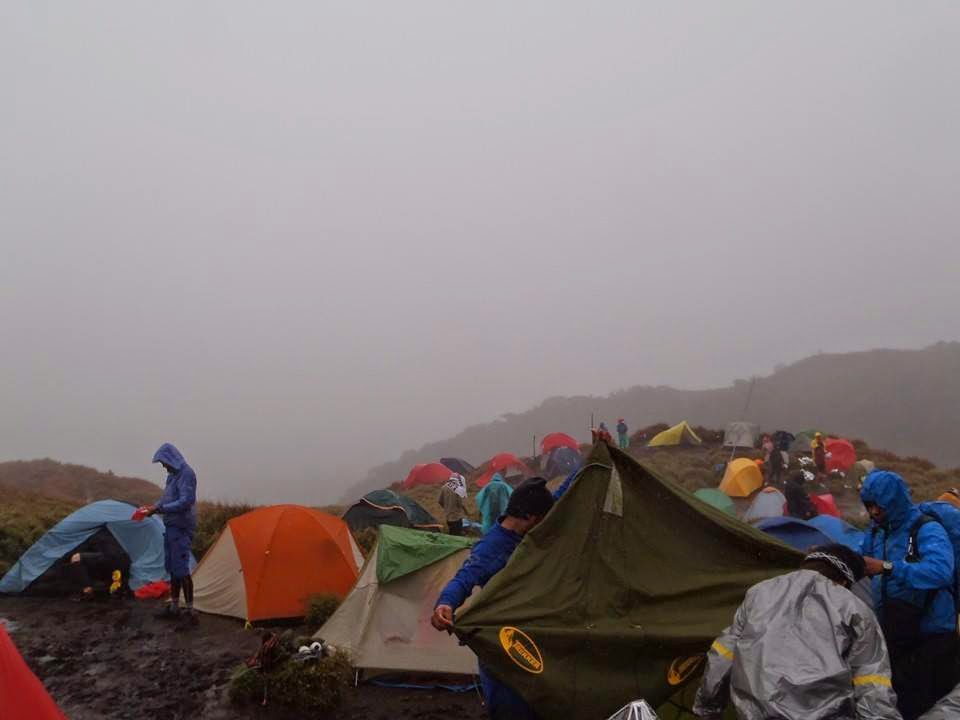 Pinoy Mountaineer is calling for a constructive conversation about what we should do to preserve the beauty of Mt. Pulag and other mountains in light of the problems brought about unregulated ecoutourism. Contributions are welcome at mews@pinoymountaineer.com. 
by Abigail Giron
Firs of all I would like to say that I am happy that this topic was finally brought up. I have chosen mountain climbing as hobby because I've always loved being in touch with nature, working hard for the reward I'm about to get at the summit, and taking part in the lives of the mountains' locals.
It was April of 2014 when I first climbed Mt Pulag. I went with my hiking friends and, like the others, we wanted to catch the day's first light and Benguet's sea of clouds. As stated in the rules, we made a reservation before going there, passed by the DENR station to register, and waited at the jump off to be accommodated. It was a smooth process and we were all just so excited to be with fellow mountain enthusiasts, waiting to see what the mountain has to offer. And indeed, it did not disappoint.
The same group went back last February of 2015, going through the same process as we did before. This time though, it was different. Reservation was difficult because tour groups have secured slots way in advance; there were twice as many people during the orientation at the DENR station; and the jump off point had a very long line for climbers mostly in groups of 20-30. Eventually, we got to the campsite. It rained really hard that night so we had to skip socials. The next morning, we were surprised to see a campsite that is multi-colored, filled with countless tents and campers buzzing around. We couldn't go to the summit because of the weather so we just stayed for a while, cleaned up the space that we took, and went home.
So much changed in a span of a year–it could be because of the sudden popularity of mountain climbing due to social media, or it could be because of the boom of adventure tour groups. I am happy that we are all into one healthy and good passion, and I believe that it's something that's meant to be shared. I'm not quite sure, however, how each of us has given back to Mt Pulag. With the sheer number of plastic wrappers and bottles that we saw and had to pick up along the trails, I'm wondering how much more importance we have been giving to enjoyment over the mountain's wellness. It has given us nothing but amazing views and unforgettable experiences, and now I'm wondering how we have taken care of it in return. I woke up that morning, saw the campsite, and felt extremely bad about how overused the land looked.
This isn't something that's happening only to Mt Pulag. There have been talks about trees getting cut down for tourists to get better views in Mt Maculot. Mt Palay Palay's Parrot's Beak never seems to be running out of lines during weekends. And trails, poor trails, take all the beating.
I haven't gone back to Mt Pulag since my second visit mainly because I'm afraid of what I'm going to see, and also because I don't want to add up to an already huge number of people that's going to walk along the mountain's tired trails. I wish for Mt Pulag to take its rest for a while. I wish for hikers to be more responsible and mindful when heading up there. I wish for people to realize that, yes, we do this to enjoy ourselves but not at the expense of the mountain. I wish for stricter control at the jump off. And I wish for mountaineers to be initiators of responsible climbing for the new ones.
Let me know if there's any way that we can help in pushing for Mt Pulag's restoration. The mountain badly needs it.