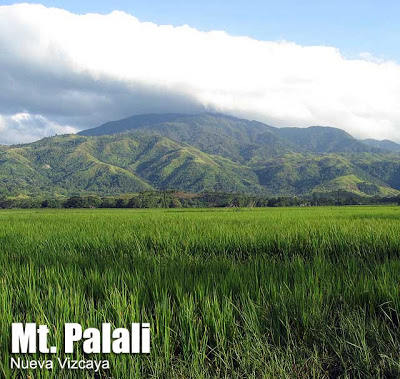 MT. PALALI
Quezon, Nueva Vizcaya
Jump-off point: Purok 5, Brgy. Maddiangat, Quezon
LLA: 16.4283°N; 121.2236°E; 1,715 MASL
Days required / Hours to summit: 2 days / 6-8 hours
Specs: Major Climb, Difficulty 5/9, Trail class 2-3
Features: Tropical rainforest, Scenic views of Nueva Vizcaya
Last updated: July 12, 2012
BACKGROUND
A little-known but very beautiful destination in Northern Luzon is Mt. Palali in Nueva Vizcaya. Once the hunting ground of the Bugkalots, Gaddangs, and Ifugaos, this majestic mountain offers a commanding view of the low-lying municipalities of the province.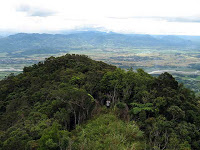 The jump-off point is accessible through tricycles or jeeps less than 30 minutes from Solano. Getting guides, however, seem to be quite a challenge but the risk of going there without prior arrangement is a fair-enough risk, as Mt. Palali gets more and more popular as a climbing destination. The trail begins as a rough road, as in many mountains, and it gives way to a beautiful forest. This forest has recently been declared as a 'protected area' and should be respected as such. There are many avian species; indeed the forest is the closest most of us can get to the deep jungles of Palanan, farther east.
Several hours into the climb, huge boulders will appear, heralding the end of the first half of the trek. Afterwards, the landmark known as Haring Bato will be reached – the halfway point. Another account says this area is in the native tongue known as Dinar-awan. Here, and when the forest occasionally gives way to the cogon grassland which is the usual environment of Philippine peaks, the view is like that of Mt. Arayat: instead of Pampanga River, there is Magat River, sweeping across the plains as it commences from Vizcaya; and looming in the west are mountains such as Mt. Ugo, the saddle of Ambaguio, and on a clear day, Mt. Pulag itself, and northward, Mt. Napulauan, and a distant Mt. Amuyao. Meanwhile, equally alluring are the mountains of the east side: the Sierra Madre range, with its rarely-explored environs.
The summit, again like its Arayat and Makiling counterparts, is forested. Take time to observe the fauna and flora there – pitcher plants, creepers, and wild flowers create a Jurassic aura that caps off the climb to one of the more pristine places in the country.
ITINERARY
Day 0
2200 Assembly at Victory Liner Kamias Terminal along EDSA
2300 ETD to Solano, Nueva Viscaya
Day 1
0500 ETA Solano, Nueva Viscaya. Breakfast.
0630 Take trike/jeep to Purok 3, Brgy. Maddiangat, Quezon
0700 ETA Purok 3 / Final preparation / Arrange local guides.
0730 Continue with trike/jeep to Purok 5 (jumpoff)
0800 Start Trek (6-8hrs)
1200 Lunch along the trail (Packed Lunch)
1300 Resume trek
1400 Grand view deck (Haring Bato 1435 MASL)
1500 ETA Camp 2
Day 2
0500 Wake-up call / Breakfast
0700 Commence summit assault.
0800 ETA Summit of Mt.Palali (1715MASL).
0830 Back to Campsite.
0930 Break camp
1000 Start descent.
1200 Lunch along the trail.
1300 Resume trek.
1600 Brgy. Maddiangat / Tidy up
1630 ETD to Solano.
1700 Solano
1800 ETD to Manila.
0000 ETA Manila.
SPECIAL CONCERNS
Transportation. This mountain is surprisingly accessible, with its starting off point just around 30 minutes away from the National Highway in Solano – a tricycle ride away (P150/trip all the way to the jumpoff). To get to Solano, take any Cagayan Valley-bound bus from Manila. Victory Liner Kamias Station (MRT3: GMA-Kamuning) has trips that leave at 2300H and 2330H. The fare to Solano costs P338 as of July 2012.
Guides and registration. The Mina brothers are the leading guides to Mt. Palali; they are based in Purok 3 of Brgy. Maddiangat. Roldan, one of them, can be reached at +639352921029. Guideship and porterage fees are P500/day. There is allegedly a registration fee of P100/person this needs to be validated.
Hiking notes. The climb is a straightforward ascent, lasting 6-9 hours. Given its geography, chance of rain is very high in Mt. Palali. There are slippery trails especially during the rainy season; usual precautions apply.
Camping notes. There are a couple of water sources before Haring Bato, and there is also a water source at Camp 2, which is the major campsite. Although large groups have camped up Palali, the campsites are quite small, comfortable for only a few tents. Cellphone signal is present at the summit and at the initial leg of the trail, but very weak at Camp 2.
Purok 3 of Brgy. Maddiangat is where the guides are based. You can leave some of your things care of the guides before trekking.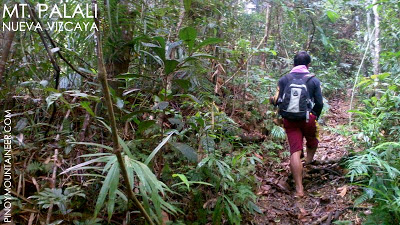 The hike can be characterized mainly by trekking through forests not different from those of Isarog and Makiling – and just as steep, perhaps even more.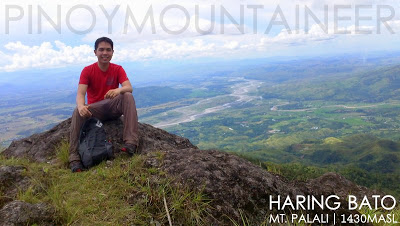 Haring Bato is the 'grand viewpoint' of Mt. Palali, offering commanding views of virtually the whole of Nueva Vizcaya and nearby provinces, and glimpses of the high mountains of the Cordilleras including the 'four great traverses': Pulag, Ugo, Napulauan, Amuyao.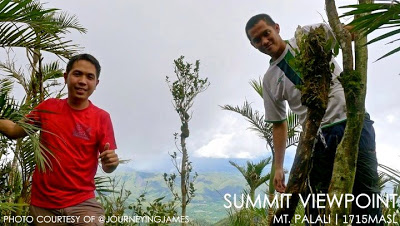 The summit of Mt. Palali is forested, but there is a viewpoint that faces west.
TRIVIA
It is interesting to note the following entry in this page before we launched the 9-point Difficulty Scale in 2009, an initial attempt to make a more precise scaling:
Mt. Palali is being classified in this blog as Level 2B: not quite Level 3 (lacking the extreme weather, precarious and long trails) but requiring the same logistical preprations. Examples that would fall under Level 2B include Mt. Tapulao; those of the difficulty of Arayat or Makiling would be designated as 'Level 2A'.

This climb can be done as an extended dayhike – a dayhike requiring a fast pace and around 5 hours of trekking to reach the summit. The blogger did such a dayhike on July 10, 2012 with travel blogger Journeying James. An account of this hike is narrated in
Hiking matters #281
.
PinoyMountaineer.com thanks Vanessa Lacson of the OLAY Mountaineers for supplying the information and photos for the original version of this article.